Vincent Tran has a lot to be thankful for and he is especially appreciative of the care and compassion he received from the dedicated care providers at Alameda Health System's Highland Hospital after he was hit by a car while riding a motorized skateboard in Oakland.
As a result of the accident Tran spent ten days in the hospital and suffered multiple internal injuries that included surgery to remove his spleen. In addition, he broke several bones in his legs and as a result he had to learn to walk again with the support of many physical therapists.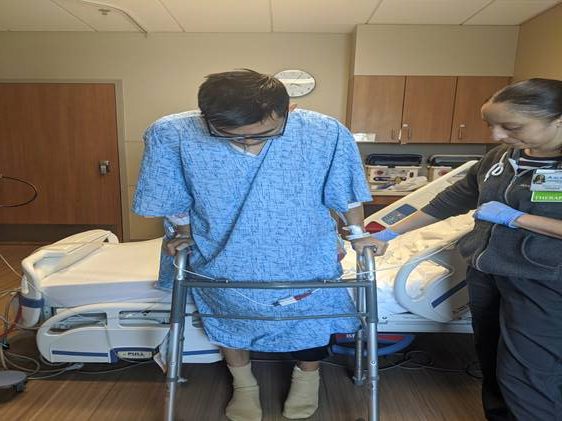 "Although this was one of the worst events that ever happened to me, I am extremely grateful for the amazing care that I received at Highland Hospital," Tran said.  "I have a newfound appreciation for life and this experience has only made me a stronger person."
As the only  Adult Level 1 Trauma Center in the East Bay, Highland Hospital is capable of providing total care for every aspect of injury. "Level 1" is the highest possible designation for a trauma center, indicating the center's 24/7 ability to treat all trauma incidents with the highest skill level.
Tran credits his recovery to the trauma physicians, surgeons, nurses, physical therapists and staff.  "There was never a moment where I didn't feel supported and informed about my care plan," said Tran. "Everyone on my care team was always checking on me and my progress and made themselves available to answer all of my questions."
Tran shared that he owes everything to the care providers and staff at Highland Hospital.  "I will always be connected to Highland Hospital and their amazing team. They helped to make me whole again."
Tran felt so strongly about his exceptional patient care experience, he showed his appreciation by creating and recently posting a video, Thank You, Highland Hospital on his YouTube channel.