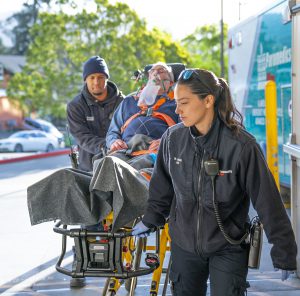 Saving minutes saves lives. At Alameda Health System-Highland Hospital, the East Bay's only adult Level 1 Trauma Center, fast-acting trauma professionals have been saving lives in Alameda County since 1969. Our Trauma team serves more than 2,600 patients a year from Alameda County and throughout the San Francisco Bay Area. With trauma surgeons, specialists and necessary equipment available around-the-clock, any adult seriously injured in or near Alameda County is taken by Emergency Medical Services to Highland Hospital for the highest possible level of care and expertise.
As one of four adult Level 1 Trauma Centers in the San Francisco Bay Area, and one of only 13 in California, Oakland's Highland Hospital is respected nationwide as a major teaching facility with a residency program that trains the next generation of emergency medicine doctors and trauma surgeons.
Almost 70 percent of Highland Hospital's trauma patients are victims of traffic accidents and seniors with injuries from falls. Injuries resulting from violence make up about 26 percent of Highland's trauma cases.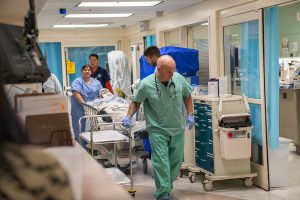 Things you should know about the Highland Hospital Trauma Team:
Highland Hospital general surgeons and specialists in the areas of orthopedic surgery, neurosurgery, anesthesiology, radiology, internal medicine, and oral and maxillofacial surgery are available 24/7.
Dedicated state-of-the art trauma operating rooms with committed staff and specialized equipment are available for trauma use around the clock.
Highland Hospital is an accredited teaching institution with nationally recognized residency programs in general surgery and specialized surgery. Many Bay Area physicians received their training at Highland Hospital.
As an academic medical center, Highland's Surgery and Emergency Medicine department conducts research and publishes numerous peer reviewed journal articles on trauma and emergency care.
Trauma team members are continuously trained, and are proficient in the most current innovations in trauma care.
Highland Hospital trauma surgeons are faculty at the University of California, San Francisco.
Highland Hospital Trauma Surgeons are instructors for the AHS surgery residency program and are faculty at University of California, San Francisco.  The Highland Department of Surgery is the satellite department of the UCSF Department of Surgery, known as UCSF-East Bay.
Trauma Surgery

Gregory Victorino MD

Kelley Bullard MD

James Cushman MD

Emily Miraflor MD

Barnard Palmer MD

Javid Sadjadi MD

Eric Bui MD

Orthopedic Surgery

Michael Krosin MD

Swapnil Shah MD

Kevin Vogeli MD

Nicholas Pirnia MD

William Billings MD

James DiStefano MD

Peter Slabaugh MD

Robert Hoffman MD

Neurosurgery

Margaret Riordan MD

Sun Ik Lee MD

Urology Surgery

Sarah Blaschko MD

Timothy Ito MD

Yuka Yamaguchi MD

Charles Turzan MD

Surgery Oral / Maxillofacial Surgery

Chan Park MD

Benjamin Shimel DDS

Vincent Farhood DDS

Luis Limchayseng DDS

Ophthalmology

Richard Imes MD

Stephen Post MD

Jennifer De Niro MD

Judy Chen MD

Joseph Alsberge MD

Otolaryngology

Mike MacDonald MD

Tristan Klosterman MD

Plastic and Reconstructive

Trauma Center Liaisons

Eric Yasumoto MD – Radiology

Jordan Newmark MD – Anesthesia

Charlotte Wills MD – Emergency Medicine

Valerie Ng MD – Blood Bank/Laboratory Science

Trauma Nurse Practitioners

Erica Peters NP

Tina Quon NP

Juan Cassilas NP

Trauma Staff

Steve Thomas RN – Trauma Program Manager

Carol Wright RN – Program Improvement Nurse

Heather Tilton RN – Program Improvement Nurse

Stefania Kaplanes MSW – Trauma Prevention Program
Highland Hospital's prestigious adult Level 1 Trauma Center designation is partly due to the hospital's numerous community-wide trauma injury prevention programs.
The Highland Hospital trauma staff continually engage with the community organizations to provide trauma-prevention training and equipment to people of all ages–ranging from free child car seat installation, to mobility testing for seniors at the Highland Hospital Fall Prevention Clinic, and every age in between.
Seventy-year-old Wanda was startled awake on the floor of her Oakland apartment with a loud crash and a bump on her head. It was the middle of the night and she was sleep-walking. She [...]