The System Admission Transfer Center (SATC) at Alameda Health System (AHS) plays a key role in coordinating the timely and efficient placement of patients so they receive the right care at the right time in the right place.  In fall of 2022, the SATC implemented a new systemwide inpatient transfer process that reduces wait times for available beds and increases the continuum of quality care for each patient.
"First and foremost, our commitment is to the health and wellness of our patients," said Denece Jackson, SATC supervisor. "Managing patient flow and monitoring capacity throughout our integrated acute care hospitals ensures that our patients will receive the highest quality care as quickly as possible."
Patient flow or patient throughput refers to the movement of patients from one location to another for the right level of care and treatment. When not operating as effectively as possible, it can cause loss of time, resources, revenue and ultimately it can impact all aspects of the patient experience.
With patient care top of mind, the SATC was originally created as part of the Epic implementation to serve as a centralized transfer control center with a global view of bed need and availability at Highland, Alameda and San Leandro Hospitals.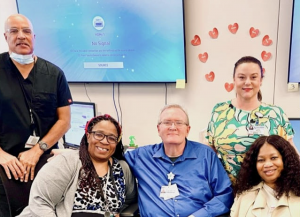 (L to R) : SATC Team: Mark Stewart, Sonya Allen, Steve Long, Amy Mariano, Cynthia (CJ) Johnson
In their commitment to continuous improvement, in early 2022 the SATC staff began refining the patient transfer process by developing standard work, identifying roles and responsibilities and closing communication gaps across all AHS acute care hospitals.
The SATC helped to develop a cross-functional project team comprised of key stakeholders at each acute care hospital including senior leaders, providers, registered nurses (RNs) as well as medical and support staff. Together they set out to improve the process for managing patient capacity across the system.
They specifically focused on solving the underutilized inpatient capacity at Alameda and San Leandro Hospitals while the Wilma Chan Highland Hospital Campus (WCHHC) emergency department (ED) was boarding patients for hours. Boarding is holding admitted patients in the ED because there are no inpatient beds available. In addition, decreased bed capacity at Highland was leading to delays in transfers from Alameda and San Leandro Hospitals for patients requiring higher levels of care.
The primary theme that emerged from the workgroup was the need for providers and medical staff to engage the SATC early in the transfer process to ensure coordination from start to finish. In many cases conversations about patient transfers were occurring solely between ED providers at each AHS campus without SATC being made aware and then were unable to serve as a central point of contact.
To address these needs patient transfer workflows were created to build consistency across the organization. For example, transfer coordinators now follow daily standard work that includes checking in by phone with the house supervisors and ED charge nurses at all three hospitals for patient transfer requests. In addition, they use Epic to track requests and monitor bed availability to match the patient's care needs with the right location.
Today patient transfer requests from all three hospitals range from 120 to 180 per month with Highland being the most impacted.  "Ultimately, our target would be to execute four patient transfers per day from Highland to our sister hospitals in Alameda and San Leandro," said Steve Long, transfer coordinator and care liaison.  "At a minimum that would free up 120 beds each month at Highland for patients who need the next level of care."  The SATC is dedicated to achieving that goal by spring of this year.
Long shared that the providers and medical staff continue to provide positive feedback for the new transfer process. "They express their gratitude for the SATC's support in helping to manage challenging cases by getting patients to the right place for the right care," said Long.
It takes a dedicated network of nurses and medical staff at each AHS acute care hospital for the SATC to successfully deliver a smooth and seamless transition of care for patients.
"For the SATC collaboration and continuous improvement is key to success and as a result, our patients are benefiting from access to the high-quality care they need and deserve," said Jackson.
For more information on the SATC and patient transfer services visit the AHS Transfer Center.