As a patient centered health care organization we know that proper nutrition is vital for the health and wellbeing of our patients. In that same sentiment, we also care about the nutrition, health and wellbeing of staff, which is why Terrance Hawkins, cook at the Alameda Health System-Fairmont Hospital Cafe is such an important part of the AHS Food and Nutrition Services team. Hawkins is known for his flavorful cuisine and his excellent customer service.
"I love the look people have when they are satisfied with the meal I have prepared for them." Anyone who has placed an order with Hawkins will notice that he stops and turns his head to the side to make sure he is hearing everything correctly. If he has never cooked for you, he might ask you to fill out the food order form so he can see your name. This is how he gets to know a person and associate names with orders. "My job is to make sure everyone leaves happy."
Hawkins creates and prepares the food on the monthly menu. Working the grill during breakfast and lunch, he's known for his creative breakfast scrambles, macaroni and cheese, pancakes and Philly Cheesesteaks. One AHS staffer was overhead telling him she recently went out to eat and ordered ribs and they were nowhere near as flavorful as his.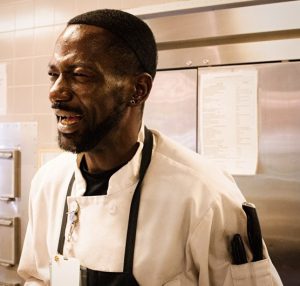 "I enjoy my job and I think it is important. But when I hear a story about one of our doctors that worked for 4 hours or more on a patient to save their life, I think wow, I couldn't cook for 4 hours nonstop. I would need a break. I'm honored to be able to provide a meal to people who are doing such meaningful work."
As a child, Hawkins started cooking at home to help out his mother who worked multiple jobs to make ends meet. "My mom would come home in between shifts and be tired. I didn't want her to have to worry about me." He later became a special diet cook in high school and when he turned 18, he joined the Marines as a cook.
Because of his military training he can prepare a meal for 400 people on his own. He said it wasn't uncommon to feed 2,000 people for breakfast. While he was in service he had the opportunity to prepare meals/banquets for ambassadors, Saudi princes and Presidents Bill Clinton and George W. Bush. He admits cooking for these dignitaries was a great honor, but he prefers cooking at AHS because he can tell that staff really enjoy their food.
"No matter what goes on in my life, when I put on my white coat I am in the zone. When I have a good attitude while cooking, that rubs off on the staff and now they are full, happy and have a good attitude and when they go to see patients that attitude reflects in their work. Smiles are contagious," said Hawkins.
When he started working at AHS, he was living in a homeless shelter for veterans. Due to an injury that wouldn't heal, he was out of work. He was actually on the verge of leaving to become a truck driver when he got a call from AHS human resources. "The day before I was supposed to leave I thought let me look online one last time, I applied at AHS and someone called me back 30 minutes later. I interviewed and was hired on the spot the next day." He believes HR was impressed with his resume, which in addition to being a Marine cook, he also managed Chevy's and Chinese restaurants.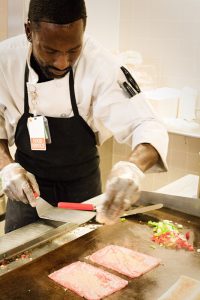 Hawkins doesn't mind talking about being homeless, because he hopes his story will help someone. He says people often believe homeless people are lazy or addicts but this is not the case. In his experience, often times people are down on their luck and just need extra encouragement. Also, when it comes to vets, many of them are not only facing housing issues and food insecurity but they are often dealing with posttraumatic stress disorder (PTSD) which can be an impediment to employment.
Elsie Isibor, manager at the Fairmont Café said hiring Hawkins has been one of her best decisions. "He is very respectful. He takes his position very seriously. We have noticed more people have started coming to the cafeteria since he came back to Fairmont." Hawkins worked in Highland Hospital's Café for many years. She added she trusts his thought process and is happy he is bringing his new ideas to the menu and grill.
Hawkins believes in the power of food because he thinks a war can be ended with a good meal, when people are gathered around a table happy and full, productive conversations can take place.
Edited June on 23, 2018.