Ross Miller, an ER nurse at Highland Hospital took a winding road to a career in healthcare, but once he began working in Highland's emergency room, he never looked back.
I graduated from college with a degree in economics in 2008, during the recession. I found myself applying for jobs that I didn't even want. I really wasn't happy.
So I was thinking about the things that made me happy when I was younger. My first job ever I was a lifeguard, and I loved those years. It gave me a little taste of emergency medicine because you learn CPR and first aid.
A friend of mine had become an EMT and volunteered here at Highland and thought I'd like it. So, I signed up for an EMT class, got my EMT certification, found out that I loved it and I was pretty good at it. I was the lead volunteer over at the Same Day Clinic. Eventually, I got into the ER, and my first day I was doing CPR and I thought to myself, I'm never going back to an office.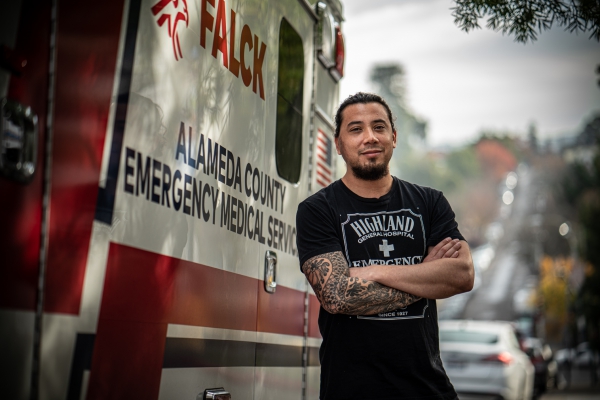 I did an accelerated nursing program, and my life for a year was two days of class, two days of clinicals, one day of simulation lab, one day working here at Highland, and one day off to do all my homework, all my laundry, all my grocery shopping. And I did that every single week for a year. Was the juice worth the squeeze? Yes, it was.
What a lot of people don't realize, getting into nursing school and getting a job, one of the most important things is networking. I would tell a young person interested in healthcare that they should probably start off just immersing themselves in it. Get one of the lower-level certifications. Volunteer. Get in there so you know you like it first. The volunteer program at Highland is probably the best around.
I feel satisfied with what I do. I feel like I contribute to society. When I'm old and I look back on my life, I'm going to know that I made a difference.