Alameda Health System (AHS) dentist and residency program director Anchita Venkatesh, DMD, is a winner of the American Dental Association (ADA) 2022 10 Under 10 Award. The award honors dentists who advance science, research, education, philanthropy, and advocacy within their first 10 years of practice.
Dr. Venkatesh joined AHS in 2020 to manage special needs dentistry and develop a residency program focused on hospital-based dentistry for patients with special needs. Hospital-based dentistry is the practice of dentistry in a hospital setting where the dentist is an integral part of the comprehensive health care team. It is often applied to non-verbal, autistic, medically complex patients, or people with other special needs who cannot undergo dental procedures in a typical office setting. The need for a pipeline of dentists in the field could not be more dire. There are only four dentists who practice hospital-based dentistry in the Bay Area. Meanwhile, there are tens of thousands of local patients who need their care.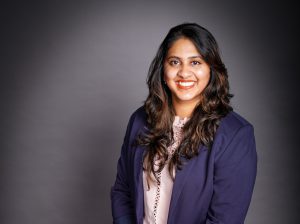 "I have patients who have to drive five or six hours for an appointment," said Venkatesh. "I had a patient who drove from the Oregon border. The patient's mother told me that no one else would see her son. They had nowhere else to go."
AHS's newly accredited dental residency program at Highland Hospital is designed to address the shortage by graduating dentists who are trained to work with vulnerable populations. Venkatesh hopes some residents will return to AHS to serve the Bay Area.
"This program is my baby," said Venkatesh. "We have our first class starting in July of 2022. If I have at least one resident who says this year has changed their outlook on hospital dentistry, it will be a success. I want students to know that there are so many possibilities beyond the traditional pathway."
The program will include the establishment of a transitional care clinic model that will address the backlog of patients waiting for hospital-based treatment. Residents will evaluate the needs of each patient, match them with an appropriate dental provider, and coordinate their care. Those who are candidates for outpatient care will be treated with desensitization techniques.
"We will try to get the patients to baseline of stable dental health, so they can transition to routine, follow-up care from community providers," she said.
Venkatesh became interested in special needs medicine while pursuing her doctorate of dental medicine at Boston University (BU) Goldman School of Dental Medicine. BU is a partner of the Massachusetts Special Olympics, and Venkatesh served as a volunteer at the Special Olympic games.
"That was an eye-opener for me. It was my exposure to this community and my exposure to the lack of access for folks with special needs," she said.
Recently, Venkatesh has been developing a mobile application inspired by the soundboards many nonverbal people use to communicate. Unfortunately, there are no such boards specifically for dental settings. By translating the capabilities of a soundboard to a mobile application that can be downloaded onto any phone, she is making the technology more affordable and accessible.
"The possibilities are endless!" she said.