At Alameda Health System (AHS) the dedicated staff at our four skilled nursing facilities (SNFs) are passionately dedicated to providing the highest quality care and service to our most vulnerable populations every day and during a pandemic is no exception.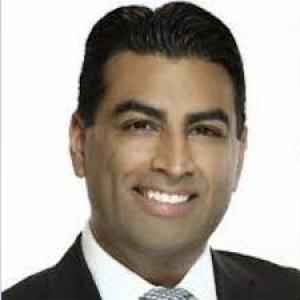 "I'm incredibly proud of our teams who were able to navigate the rapidly evolving COVID-19 guidelines from the State and ensure our residents and staff were kept safe and attended to as quickly as possible," said Richard Espinoza (pictured left), chief administrative officer for post-acute services. "Our staff successfully operationalized testing, surveillance, vaccinations and visitation for residents and their loved ones."
This year the theme for National Skilled Nursing Care Week (May 14-20, 2023) is "Cultivating Kindness" and it definitely reflects how our dedicated staff approach their work at our four SNFs including South Shore Rehabilitation and Wellness, Park Bridge Rehabilitation and Wellness, Alameda Hospital's Sub-Acute Unit and Fairmont Rehabilitation and Wellness.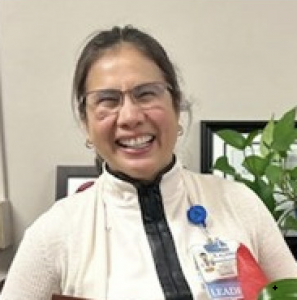 Violet Idemudia, RN, Fairmont Rehabilitation and Wellness shared, "Taking care of our residents gives me the utmost satisfaction. It's incredibly rewarding to make a difference in someone's life when they are at their most vulnerable especially during the onset of COVID-19."  Idemudia's kindness and compassion was recognized in an unexpected way. "I was out shopping one day and a resident's family member recognized me and said he just wanted to thank me for taking great care of his dad and ensuring the family stayed connected during the pandemic."
Under Espinoza's leadership the SNF staff was able to quickly adapt to COVID-19 restrictions including the suspension of visitation by keeping residents engaged and connected to family by proactively increasing phone, Zoom and iPad FaceTime visits. "This effort kept our residents from feeling isolated and also provided peace of mind for their family members when they were unable to visit in person," he said.
In addition, Christine Pelgone-Herz, administrator at Fairmont Rehabilitation and Wellness and the staff got creative in their processes to help allow visits by utilizing contained plastic cubes for residents to sit in and people could safely visit with them by sitting outside the barriers and following masking and social distancing protocols.
"This was just one ways we had the privilege of helping residents and their families during a scary and uncertain time," said Pelgone-Herz.  "Our residents are always at the center of all we do and our team shares a collective passion for providing them with the highest-quality care."
AHS's mission of Caring, Healing, Teaching and Serving All remained constant throughout the pandemic in our SNFs and beyond. When Espinoza learned that the County was in great need of a quarantine unit he was able to collaborate with a multidisciplinary team to quickly stand up a COVID-19 Quarantine Unit at Fairmont Rehabilitation and Wellness.
This specialized unit supported seven community hospitals and a number of SNFs throughout the East Bay by admitting COVID-19 positive or highly exposed, high-risk patients to complete a 14-day quarantine before safely returning home or moving to another SNF. Over the course of six months, AHS cared for 263 patients.
"During National Skilled Nursing Care Week I want to thank our staff for their resilience, courage and shared strength of purpose in serving and protecting our most vulnerable residents especially over the past three years," said Espinoza. "It was an extraordinarily challenging and often scary time, but each of you stepped up, adapted and excelled in keeping our residents and each other safe."