Every week angels walk through Alameda Health System (AHS) skilled nursing facilities and sub-acute to confirm residents are receiving top quality patient-centered care. They identify concerns, find out what's going well and scan areas to discover potential issues. But they don't stop there, the angels bring their findings to daily huddles and make sure issues are addressed and they close the loop with residents by sharing resolutions and timelines.
These angels are part of the AHS Angel Care program at Fairmont, Park Bridge, Alameda Hospital Sub-Acute and Southshore. Managers from all departments of the skilled nursing facilities and sub-acute are designated angels and assigned a beat within the facility that includes four to six residents that they visit at least twice per week. In the event residents don't have the capacity to speak or relay their concerns, angels speak with family representative or legal guardians.
"This is a program that I really love. It is such a great example of putting the patient at the center of care," said Richard Espinoza, Chief Administrative Officer for AHS Post-Acute Services. "It honors the resident as an individual with their own experiences, beliefs, likes and dislikes."
Espinoza said by having the angels visit with residents twice a week staff and residents build a relationship and get to know each other on a personal level which helps AHS provide patient- centered care that takes into consideration the whole person.
"During the visits, angels discover individual preferences that can have a real impact on the wellbeing of our residents. Take for instance a resident who prefers to bathe in the afternoon or because of religious beliefs will not eat meat that week. These are the types of discoveries our angels make and address to ensure patient's individual needs are met," said Espinoza.
According to Espinoza understanding resident's preferences allows AHS to offer culturally appropriate and equitable care. Offering inclusive foods makes residents feel respected, supports mental well-being, promotes joy and ensures residents are treated with dignity.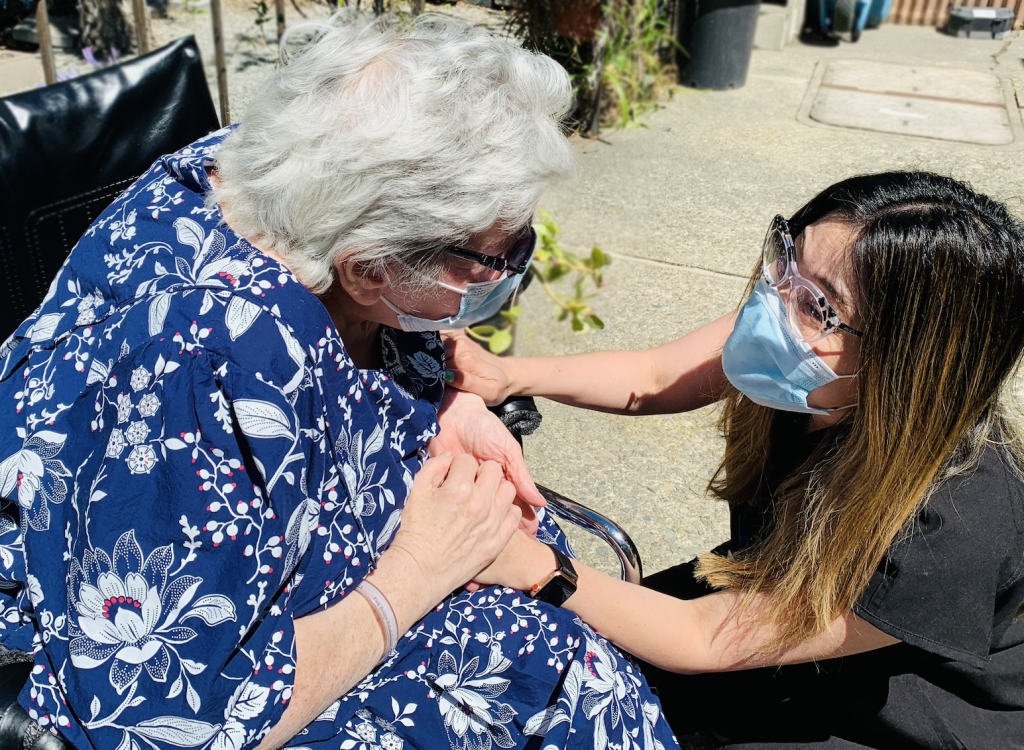 In addition, building relationships empowers residents to feel comfortable speaking up when issues arise, said Ms. Patricia Rose, President of the Park Bridge Resident Council.
"During my nearly two years here I have gotten to know Richard and Ada very well which has made it easy for me to raise concerns. I fight for our RNs, our CNAs and our residents and I'm heard. Staff take the time to meet with me. They apologize, let me know it should not have happened and they work toward a resolution," said Rose. "We all just want to be treated with dignity, kindness, and compassion, as I we would by our own families. I feel that here."
Espinoza said the Angel Care program doesn't only identify patient preferences and build relationships, it was also designed to align with AHS regulatory obligations.
"Our angels are equipped with questionnaires and a question of the week that are tailored to our regulatory requirements that ensure the rights of our residents are being honored. They also allow facility leaders to proactively identify and resolve concerns and systemic issues," said Espinoza.  "Questionnaires are then submitted to facility administrators who track progress and resolutions." AHS has four award-winning skilled nursing facilities in the cities of San Leandro and Alameda serving more than 250 residents, their families and friends.