Celia Montes remembers being very confused as she stepped away from her mother for a quick second and upon return her mother was crying. Her confusion quickly turned to anger when she found out someone yelled at her mother for not speaking English.
"We moved to the United States from El Salvador when I was 10 and my mother only spoke Spanish," said Montes, a Spanish language medical interpreter who has worked at Alameda Health System (AHS) for eight years.
When her mother was diagnosed with breast cancer she served as her interpreter. "I had to attend all of my mother's appointments because she didn't speak English. Throughout the whole process no one ever offered us an interpreter. I'm not sure if it was because I was there, but I was surprised we were never asked."
On that day she found her mother crying, they were in the Emergency Room. Her mother had endured a long battle, lost a lot of weight and had become frail. "My mother was very sick and she didn't deserve to be treated that way, no one does," said Montes. "I thought to myself, how can I prevent this from happening again? I might not be able to help everyone, but I can darn well try."
Today, Montes interacts with 25-40 patients daily due to the video medical interpreting system at AHS. "The video feature gives me access to more patients, when I used to meet with people in person I probably could only help 10-15 people a day since I had to travel to many locations."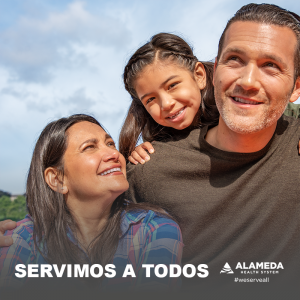 In 2006 the California Association of Public Hospitals and Health Systems  recognized AHS with a Language Access Technology Leadership award for what they called "ground breaking national leadership" in making quality care available to limited-English proficiency patients. AHS offers 26 languages in house. The interpreter services department serves almost a million limited English speaking patients annually.
In California only about 5% of healthcare providers identify as Hispanic yet 30% of California residents identify as Hispanic. "Of course it is great to have healthcare providers who identify as Hispanic or Latino or are able to speak Spanish, but if they don't that is ok too," said Montes. "As long as a provider is willing to treat each person with respect, compassion and take the time to make sure each patient understands what is going on everything can work out."
Montes was recommended for the position at AHS by the head of oncology at San Francisco General Hospital. She says she enjoys her job because she is able to help others using a language that is very near and dear to her heart.
"To me Hispanic Heritage Month is a time to be proud of our very rich, very diverse culture. Unfortunately, people can be treated poorly for their differences but I want people to know it is ok to speak Spanish. You have a real opportunity to help people if you are bilingual. That is definitely something to be celebrated."
When Montes isn't working she is spending time with her daughter and her goal is to instill the same strength, love and kindness in her daughter as her mother did with her.