On Thursday, January 25, 2018, the San Leandro Chamber of Commerce honored Alameda Health System's James E. T. Jackson as "The Business Person of the Year." This award is given to a leader that influences business and their industry by making a change in the community at large. Jackson's priority when he was hired by AHS almost six years ago as the chief administrative officer was to revive San Leandro Hospital as it transitioned to becoming a part of the system. When he came aboard, the hospital was in the red, but the hospital ended the most recent fiscal year with a positive margin.
"When I first found out I was going to be a recipient of the award, I was surprised and humbled. The reality is I'm receiving this on behalf of all the staff of San Leandro Hospital. By no stretch of the imagination have I done this alone," said Jackson. "The work the staff has executed over the past five years to turn this place that was on the verge of closing into a thriving organization that is making a multi-million dollar investment in the community is amazing. This hospital is now a state of the art place for care. I'm proud of what we accomplished."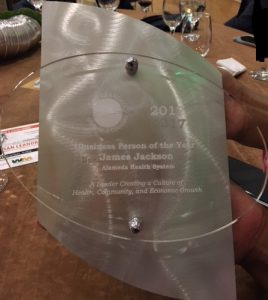 San Leandro Hospital has been a part of the San Leandro community for over 50 years and was acquired by AHS in late 2013. The hospital currently has 505 employees, 93 patient beds and has over 30,000 emergency room visits per year. In spring 2018, San Leandro Hospital will break ground on a major renovation project. The project itself represents a substantial investment in the hospital and is a 28 million dollar venture which will bring jobs and enhanced rehabilitation facilities to the City of San Leandro.
The expansion of the rehabilitation facilities comes at a time where the need for this type of therapeutic service in the City of San Leandro and greater Alameda County is high. This project will move the current rehabilitation program from AHS' Fairmont Hospital to San Leandro Hospital, bringing the qualified staff to what will be a hospital with state of the art equipment to help treat patients.
"My role as CAO of San Leandro Hospital is to give the staff and subject matter experts the resources and opportunities to do their best work; I also liaison with the community," said Jackson.
The Man Behind the Award
In addition to being the CAO of San Leandro and Alameda Hospitals, Jackson also sits on the boards of the San Leandro and Alameda Chambers of Commerce and is member of the City of Oakland Public Ethics Commission.
Another way Jackson and San Leandro Hospital work with the community is by participating in FACES For the Future. FACES encourages interest in healthcare careers amongst students of diverse backgrounds and income levels. Research shows that diversity in medical staff could determine whether a patient will seek or shun the healthcare system. "We're happy to be partnering with the FACES program and help cultivate the minds of our future leaders. Alameda County is one of the most diverse counties in the nation. It is important for us at Alameda Health System to provide culturally competent care," said Jackson.
When he's not working, he's either spending time with his wife and two children or being physically fit. He estimates he does over 24,000 push-ups, 72,000 sit-ups and walks over 2,000 miles a year.
His family moved to Oakland when he was one and he considers himself a Bay Area native. He attended Morehouse College in Atlanta for undergrad and came back to the bay, where he received his Master's Degree in Public Health from the University of California, Berkeley and he has been in Alameda County ever since.
"I've been fortunate that my career has been within 50 miles of where I was raised, which is unusual for healthcare administrators. I love the Bay Area and I'm committed to this community. It's a privilege to be able to serve folks in the area I grew up in," said Jackson.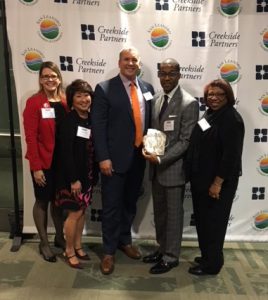 It Takes a Community
"One of my first memories of San Leandro hospital is taking a tour, walking in a stairwell and seeing a beautiful mural. I later found out the mural was painted by the staff which told me something about the spirit of the employees here," he said. "This is more than a job to them. They are really invested in this hospital and it reflects in the work that they do."
When asked about how he decided to pursue a career in the healthcare field, Jackson said his father was his role model, he was a community physician who became the Chief of Maternal & Child Health for Highland Hospital of the Alameda Health System. His fathers' guiding ethos was to be of service to others, and that guides Jackson's actions to this day.