For Stephanie Oliva, surgery and procedural services coordinator (SPSC) in ophthalmology and neurosurgery at Highland Hospital, going the extra mile for Alameda Health System patients is the rule not the exception. In November 2022, she was instrumental in helping a patient experiencing homelessness from losing his eyesight. The patient who needed emergency surgery for a detached retina had nowhere to safely go for postoperative recovery until Oliva stepped in.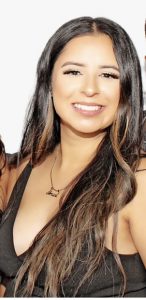 "It feels great that I could help a patient who was essentially alone and without resources or support from family or friends," said Oliva. "Making a difference in lives of vulnerable patients is a huge reward in itself and supporting this patient on his challenging journey to restore his eyesight was extremely rewarding and I'll never forget him."
The patient's health care journey began after arriving at the Wilma Chan Highland Hospital Campus (WCHHC) emergency department (ED) on November 20, 2022, and was seen by an ophthalmologist and diagnosed with a detached retina. He was immediately referred to West Coast Retina (WCR) in Oakland for emergency surgery to prevent the loss of vision and potentially his eye. Oliva arranged his transportation and worked with WCR to facilitate the transfer and admission process.
Shortly after his examination, the administrator at WCR reached back out to Oliva and told her that they were not able to do the surgery because the patient was currently living in his car and did not have a friend or family member to drive him to and from surgery or provide a safe place to rest and recover.
That's when Oliva jumped into action determined to find a homeless shelter specializing in postoperative recovery. After days of outreach and several dead ends, she secured a room for him at the East Oakland Community Project (EOCP), and he was able to get the surgery. She also arranged his transportation to WCR for surgery and all follow-up appointments.
"The patient received his surgery eight days after his visit to the ED and that would not have been possible without Stephanie's extra efforts and the important role SPSCs play in addressing our patients' needs," said Oliva's supervisor Janet Clayton, RN, in the adult specialty clinics at WCHHC.
Following the surgery, Oliva not only continued to check in on the patient to see if he needed anything and ask how his recovery was progressing, but she was also able to get him an extended stay at EOCP when he needed a second eye surgery.
Once fully recovered the patient reached out to Oliva and shared his heartfelt appreciation, "I cannot thank you enough for your kindness and all that you did for me," he said. "Your help and support saved my eyesight."
For more information on local community services for people experiencing homelessness including temporary housing, visit the East Oakland Community Project (EOCP).