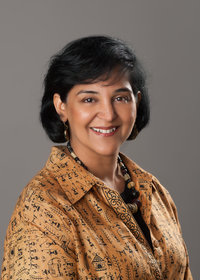 Kinkini Banerjee is the Director of Community and Network, in the Education Initiative of the Chan Zuckerberg Initiative. She leads CZI's efforts to build a multi-sectoral network, representing academia, research, practice, policy advocacy, community partners and organizations to advance a broader, holistic approach to student learning and development. Using a systems approach and multisector collaboration, the CZI Education network aims to transform systems of inequities throughout the K-12 education ecosystem.
Before joining CZI, Kinkini was the Coalition Relations Director of the United States Breastfeeding Committee (USBC), where she brought her experience in global maternal and child health, gender and racial equity, and systems thinking to coalition building, leadership development, program design and management. To close the stark racial inequities in maternal and child health outcomes across the nation, she led the design of USBC's capacity building support for its network of national member organizations, and state, local, tribal, and territorial coalitions. Kinkini served on a number of national advisory committees dedicated to women/family, infant and children's health. Her policy advocacy health reform, and appropriations on domestic human needs programs, She supported USBC's policy priorities and development to ensure that they were informed by broader human rights issue. In her role advancing equity in the First Food field, she engaged diverse sources of power, amplifying voices and input from stakeholders, including those not in traditional seats of power.
Kinkini began her career in clinical practice, as a Hospital-based Dietitian specializing in pediatric nutrition. Realizing that she preferred to focus her energies on prevention end of health, she transitioned to public health practice, working for a WIC program in South Bronx, and later to public health policy advocacy. Her interests are in building multisector movements, and in exploring paradigms, processes and practices which are rooted in racial and social justice.
Kinkini serves on the Board of Trustees of Alameda Health System, and the Past-President of the board of Building Futures, an Alameda county agency addressing homelessness through provision Housing and Domestic Violence prevention and support services.