Seventy-year-old Wanda was startled awake on the floor of her Oakland apartment with a loud crash and a bump on her head. It was the middle of the night and she was sleep-walking. She had just tripped on her area rug, fallen and hit her head against the wall. She woke with her head throbbing enough to warrant a visit to the Alameda Health System-Highland Hospital emergency room.
Wanda was lucky she wasn't seriously injured from this fall.
Injuries from falls are the second highest trauma incident treated at Highland Hospital's adult Level 1 Trauma Center, exceeded only by victims of car accidents.
According to the Centers for Disease Control and Prevention, more than one in four older adults aged 65 and older will fall, and among older Americans, falls are the number one cause of injuries and death from injury.
Elderly falls are considered "trauma" incidents. Weak bones, often combined with other chronic conditions, can cause a senior to break a hip or suffer head injuries—which are more difficult for an elderly person to recover from, and result in lifestyle changes that drastically limit mobility and independence. This is catastrophic for seniors with no family network, and are dependent on public transportation for food, medical appointments and other daily necessities.
Last month, following the ER visit and a referral from her primary care physician, Wanda was introduced to the Highland Hospital Trauma Prevention Program's Fall Prevention Clinic.
Sitting before the clinic's informal medical panel consisting of an educator, a physical therapist and an occupational therapist, Wanda described her daily activities, bedtime routine, and answered lifestyle safety questions from Stefania Kaplanes, Trauma Prevention Program manager.
Does Wanda have area rugs on her apartment floor? "Yes." Does she have handrails or skid-prevention stickers on the floor of her shower? "No." These are serious fall hazards.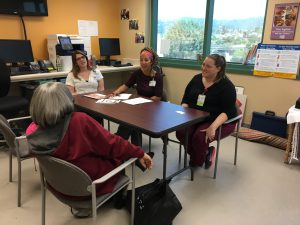 "It is important for seniors in all communities, especially those who are living alone and on limited income, to be aware of the education, medical attention and community resources available to help them remain independent and avoid a fall," Kaplanes said. "We assess their stability, offer suggestions for safety, and ensure they receive the equipment they need, like grab bars and walking canes."
As part of the clinic, a Highland Hospital pharmacist reviewed Wanda's medications to advise her on prescriptions that may cause drowsiness, or react with food and cause unsteadiness resulting in a fall. A physical therapist then assessed Wanda's gait, and discovered a weakness in her left leg that was causing her to overbalance in one direction. She recommended a subsequent PT appointment.
Kaplanes' Fall Prevention Clinic is one of several Trauma Prevention Programs Highland Hospital offers to train and counsel senior patients how best to prevent a serious visit to the ER. Other trauma prevention programs include the "Stop the Bleed" bleeding control training program, "Violence Intervention", "DUI and Texting Prevention," and "Child Injury Prevention" programs.
The hospital was certified last year by the American College of Surgeons as an adult Level 1 Trauma Center, the only Level 1 Trauma Center in the East Bay. Highland Hospital treats more than 2,600 trauma patients a year.
Like most of the country, aging baby boomers are also causing Alameda County's senior population to soar. According to county data, in 2020, Alameda County will be home to more than 260,000 adults over the age of 65. By 2030, 1 in 5 Alameda County residents will be in the 65-plus age group.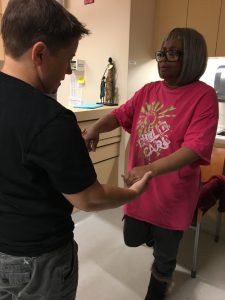 Falling is not an inevitable result of aging, but the fear of falling can threaten a senior's safety and independence. This fear can result in elderly people limiting their activities and social engagements, resulting in physician decline, depression, social isolation and feelings of helplessness.
With adjustments to their lifestyle, partnering with community resources, and participating in programs like Highland Hospital's Fall Prevention Clinic, seniors can gain the confidence and support to increase their independence and become more actively involved in their communities.
Edited on June 23, 2018.