Highland Hospital CAO Mark Brown was featured on local news for a TV segment that highlighted how AHS staff went above and beyond to reunite an unidentified patient with his family. Hospital staff reached out to the media for help identifying the mystery patient, who was unconscious when he was admitted and had no identification. Over 24 hours, the story aired on KTVU TV News, was published across multiple local news websites, and went viral on social media.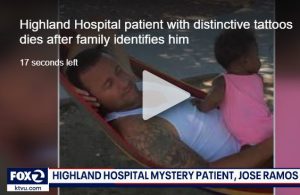 Meanwhile, the patient's daughter was looking for him. She had big news to share — she was expecting her second child. She hadn't known where her father was until she spotted his story on KTVU's Facebook page. Within hours, she was at his bedside and was able to be with him when he passed. 
"I don't know what I would have done if we didn't know what had happened to him," she said. 
In a statement, Alameda Health System spokeswoman Eleanor Ajala confirmed that the family had come forward to identify the patient. However, she did not specify the patient's name, citing privacy laws. But she added that the hospital was grateful to the public and the "power of social media to solve this case. We are grateful for the strong ties that bind our community and have reunited the family."
"It shows that our community cares. Our community cares about people, and we thought we had lost some of that during the pandemic, but this is an example of who we are as humanity and how much we care about individuals," said Highland Hospital's Mark Brown.
Read the KTVU story here.