Gathering around the table for a holiday feast, exchanging presents and connecting with family and friends can be a joyful celebration for many but for others, the holiday blues can trigger feelings of sadness that may last throughout the holiday season, especially during the months of November and December.
In addition, people with a prior mental health condition may be even more prone to experiencing holiday depression. According to the National Alliance on Mental Illness (NAMI), 64% of people with an existing mental illness report that the holidays make their condition worse.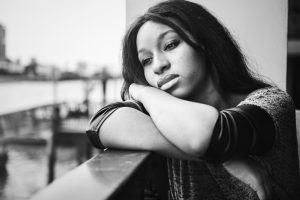 Alameda Health System (AHS) is committed to serving the whole person, body, mind and spirit, during the holidays and every day and talking to a health care professional is key to starting the healing process.
"It's helpful to let your AHS primary care physician (PCP) know if you are experiencing mental health symptoms around this time of year," said Lisa Cooper, manager of Integrated Behavioral Health in Ambulatory Services. "They can often link patients with one of our mental health staff immediately who can help develop a personalized mental health and wellness plan for thriving during the holidays."
Someone with the holiday blues can experience periods of sadness, loneliness, anxiety and depression.  Even people who love the holidays can get the blues during this busy season. The holidays can spark high emotions and extra demands leading to extreme stress and exhaustion.
Other contributing holiday stressors include lack of sleep, excessive eating, alcohol use, financial pressures and high expectations. Further, having unrealistic hopes for hosting a flawless holiday celebration can sometimes lead to stress and depression.
"It's important to remember that the holidays don't have to be perfect to be special. They don't have to be exactly like the holidays of the past to be just as meaningful and memorable," said Cooper. "Feel free to redefine what the holidays mean to you and do something nice for yourself."
Cooper recommends paying attention to the things that may be contributing to your stress and anxiety. By understanding what leads to your seasonal sadness and seeking support, you can start taking steps to enjoy this special time of year.
"There are many reasons why people might experience holiday depression however, there are steps they can take to proactively protect their health and wellbeing," said Cooper. "In addition to connecting with loved ones, you may also choose to binge on movies, try a new recipe or even make plans for the new year," said Cooper.
According to Cooper, isolation can be one of the biggest triggers during the holidays and it's recommended people look for ways to enjoy social connections virtually even if they aren't able to go home for the holidays.
If you or someone you know is experiencing emotional distress during the holidays, use the contact info below to get help immediately:
Crisis Support Services of Alameda County – 24 Hour Crisis Line: 1-800-309-2131
In addition, the AHS Employee Assistance Program (EAP): has mental health support, tools and resources available: