In support of Alameda Health System's (AHS) mission to serve all, our mobile health clinic recently participated in the LavaMaeˣ Pop-Up Care Village (PUCV) at Frank Ogawa Plaza in Oakland helping to build healthier and thriving communities.
LavaMaeˣ is a nonprofit that hosts PUCV's that provide mobile showers, handwashing stations, haircuts, clothes an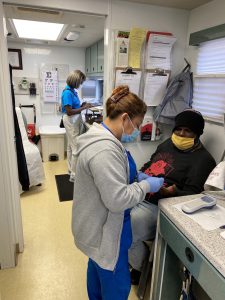 d other community services to people experiencing homelessness on the streets of San Francisco and Oakland.
"Our goal is to support the most vulnerable populations in the community including those experiencing homelessness," said Lafayette Bickham, assistant practice manager for the mobile health clinic. "When LavaMaeˣ asked us to participate in the August event it was a no brainer because their mission perfectly aligns with our AHS mission for serving all."
The AHS mobile health clinic provided general health assessments that can diagnose diabetes and high-blood pressure among other health risks patients might not be aware they have. In addition, patients received information on where to get COVID-19 vaccines and boosters.
Staffing the mobile health clinic at LavaMaeˣ was truly a team effort. In addition to Bickham, Wanda Johnson, nurse practitioner, Marta Valencia, medical assistant, Cameron Bodwin, mobile health specialist and Donald Parks, patient services representative worked together to serve patients in the clinic and on this day, off the clinic as well.
"Serving patients at LavaMaeˣ and other community events is rewarding because we meet people where they are and bring health care services directly to those most in need. We help break down disparities and increase access," said Johnson. "The mobile health clinic team is passionate about treating all patients, including those experiencing homelessness with the dignity and respect they deserve."
One patient, Kostiantyn Torchin who had been seen at a previous mobile clinic site location in Hayward stopped by to specifically thank Valencia. "He wanted to express his gratitude for the care she provided and shared that his visit had helped him to begin turning his life around," said Bickham. "He now has a job and is back on his feet which was so exciting for all of us to hear."
The AHS Mobile Health Clinic will continue to support LavaMaeˣ events going forward including at the next event scheduled for October 19 at Frank Ogawa Plaza in Oakland. In addition, the Mobile Health Clinic makes regularly scheduled stops at several homeless shelters and other community-based organizations in Alameda County.
For more information and additional resources including a calendar of events visit:
AHS Mobile Health Clinic
LavaMaeˣ