Originally published on The Oaklandside.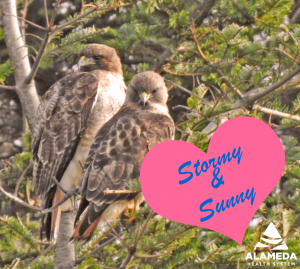 Earlier this year we were tipped off by staff at the Wilma Chan Highland Hospital Campus that a pair of red tail hawks, which had been living there for a few years, was thriving and had given birth to several chicks, raising them in a nest high atop a big cedar tree.
We had to check it out. In reporting the story we learned how the hospital's landscaping makeover several years ago created a habitat for insects, birds, and other wildlife. By turning a parking lot into a lush garden, the hospital invited the hawks into its central courtyard. And patients, staff, and visitors benefited by being able to gaze out windows and watch the majestic birds soar between buildings.
After our story ran, the Alameda Health System decided to name the birds. AHS invited the public to submit ideas and then picked three suggestions for hospital staff to vote on. We gladly helped spread the word. It came down to Hawkeye and Houlihan (a reference to the TV show M*A*S*H), Antonio and Bella (a nod to San Antonio and Bella Vista, the two neighborhoods surrounding the hawks' habitat), and Stormy and Sunny.
According to AHS, 290 staffers voted, naming the male Stormy and the female Sunny.
"We are delighted that hundreds of Alameda Health System staff members, patients, and neighbors from the broader community all pitched in to help us name the pair of hawks who live on the Wilma Chan Highland Hospital Campus," said AHS Media and Communications Manager Eleanor Ajala in a statement today announcing the names. "Stormy and Sunny are beloved fixtures of the neighborhood, and we hope they stick around for many years to come."
Read the full article by Darwin BondGraham here.