Clinical nurse educators at Alameda Health System have an important job: they make sure nurses are trained to carry out the most up-to-date best practices when caring for our patients. They also support individual professional development goals through mentorship and education. This month, we're profiling two clinical educators who provide a sneak-peek into a day in the life of a clinical educator.  If you've ever thought a career in clinical education might be right for you, now is the time to inquire. We're hiring!
Daniela Hernandez, RN, BSN, CEN
A nurse's education never ends. There are always new technologies to learn, advanced certifications to earn, and opportunities to specialize. That's where clinical nurse educator Daniela Hernandez comes in. Her role is to teach, mentor, and support emergency department nurses throughout the Alameda Health System.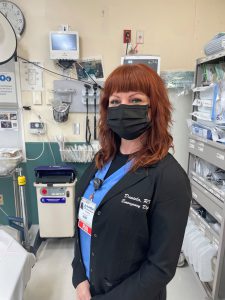 "My goal is to help our nurses develop confidence in what they are doing and in the skills they have," says Hernandez.
Hernandez started her career as an emergency nurse in San Francisco in 2005 and joined Highland Hospital emergency department in 2013. She discovered a professional home at Highland and a sense of loyalty to the community. She likes treating the most vulnerable patient populations without worrying about whether they are insured. Hernandez also discovered her passion for teaching at Highland.
"Highland is a teaching hospital, we have people from all over the country that come here to learn and grow and be a part of our team, so it is an honor to be an educator here."
There is a shortage of clinical educators nationwide, and positions are challenging to fill. So when AHS began offering nurses tuition reimbursement to complete a master's degree in clinical nurse education, Hernandez jumped at the chance.
"It's an amazing opportunity," says Hernandez. "It's kind of unheard of. It's up to $20K per year, so you don't even have to do a cheap, online program. If you wanted to go to one of the big schools, you could do it."
Hernandez has been in her new role as a nurse educator for a little over a month. She enjoys teaching nurses new, improved ways of doing things that might be different from what they learned in nursing school. She also loves championing the important role nurses play in the community.
If you are interested in education, enjoy empowering others to be their best self, and like helping others succeed, a career in clinical education might be right for you. Learn more about clinical education opportunities at AHS. Current AHS nurses may be eligible for tuition reimbursement. Please reach out to Human Resources to inquire.
Barbara Mwamba, RN, BSN, MSN, DNP
Barbara Mwamba loves to teach. Last month, she joined Alameda Health System (AHS) as the new system director of clinical nursing education, based at Highland Hospital. Her goal: Establish a collaborative and interdisciplinary clinical education program that supports the professional development of the AHS nurses.
"I love teaching, and I also love to learn. Being an educator allows me to do both. Teaching allows me to make a difference and make a positive impact. As an educator, I am ­not just teaching and educating, I am building relationships. I love that! I love making that connection when learning happens, and I get to witness that inspirational moment when the learner wants to seek and gain more knowledge. Then I have done my job. Now the learner has wings to fly and become empowered to be successful."
Previously, Barbara worked at Oak Valley Hospital District, where she was the district education manager for the entire hospital district, including the hospital, clinics, nursing rehab center, and ambulance.
"I developed and managed educational programs for all disciplines of the district, not just nursing," she says. "I think that's part of what made me an attractive candidate to AHS, and I guess my doctorate in nursing practice in health care systems didn't hurt."
In her new role, Barbara is responsible for assessing, organizing, and managing the clinical education needs of the AHS nursing staff. She directs the activities and services of the clinical education department, ensuring that responsibilities and activities are carried out in accordance with the AHS mission statement: caring, healing, teaching, serving all.
"It is essential that the nurses have the necessary training and clinical skills to take care of our patients. The bottom line is that it's all about patient-centered care. If we're not implementing care that is essential to the patient and their caregivers, it's tough for the patient to successfully transition from hospital to home. So, I'm here to make sure our nursing education is evidence-based, effective, efficient, and quality-driven."
To accomplish her goals, Barbara is on a mission to recruit and train new nurses who are passionate and adept at empowering others to be their best selves.
"If you want to make a positive impact on nursing care, are passionate about seeing others succeed, and have a desire to impart knowledge that will provide quality patient outcomes, then becoming a nurse educator is the job for you."
The clinical education department is looking for ICU, telemetry, and OR nurses who love learning. If you're interested in learning more about opportunities in clinical education, go to the AHS careers page here, or contact Barbara Mwamba directly at bmwamba@alamedahealthsystem.org.