Exceptional people delivering excellence every day
Eleven of your colleagues received a very special honor as the first recipients of the Alameda Health System (AHS) Certificate of Recognition.
The honorees were recognized before the Jan. 26 AHS Board of Trustees meeting held at the Highland Care Pavilion conference center. Following a presentation by their Chief Administrative Officer (CAO), each recipient received their certificate from CEO Delvecchio Finley in celebration of their dedicated commitment to our mission, vision and values. The honor is both a tribute to individual excellence and to our shared dedication to a patient- and family-centered system of care that promotes wellness, eliminates disparities and optimizes health.
"Alameda Health System is on a journey to population health and wellness and our employees are the key to our success," said CEO Finley during his introductory remarks at the ceremony. "…This dedication shows up in amazing abundance across our organization, through people who go above and beyond in the way they deliver care to our patients and the way they support each other."
The award ceremony, he said, was an opportunity to "celebrate people who exemplify our mission, act in accordance with our values, and demonstrate excellence. These extraordinary employees come before us, having received accolades from patients and their families, providers and peers."
Each recipient exemplified how individual achievement contributes to our success in delivering exceptional care while supporting the organization's transition to population health management. The honorees were: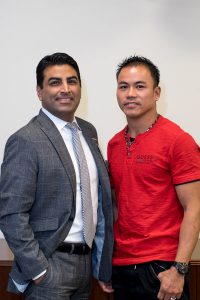 JoJo Naelgas, Certified Nursing Assistant, Park Bridge Rehabilitation and Wellness Center – Dedicated to exceptional care daily. Positive attitude, a great relationship with co-workers and residents. Always in good spirits, shares his joy with the team and residents.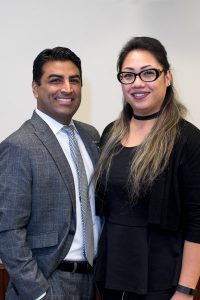 Kristine Telmo-Botin, Patient Services Coordinator, Alameda Hospital Sub Acute Unit – Takes on tasks with a smile, eager and willing to expand and grow her skills. Computer user, newsletter writer, scheduling expertise. Driven, self-motivated and an asset to the team.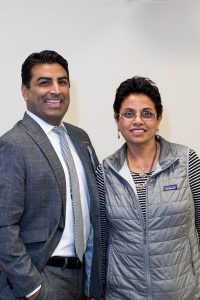 Saroj Grover, Registered Nurse, Fairmont Skilled Nursing – A major team player, strong understanding of the ins and outs of her unit, incredibly resourceful, works well with the team, strong clinical skills, thoughtful in her approaches and very considerate.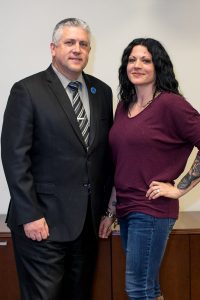 Aura Belasco-Gomes, Registered Nurse, Highland Hospital Emergency Room – Exemplary leader and team player, always willing to assist her colleagues wherever she can, keeping the purpose of the department in mind even when not in the role of relief charge nurse.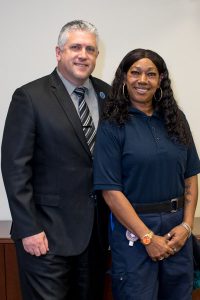 Brenetta Carter, Highland Hospital Environmental Services – Customer services second to none, takes her job and related roles very seriously day to day, a role model in the environmental services department.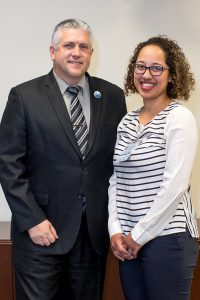 Natasha Ravare-Evans, Manager, Highland Hospital Facilities Department – A dependable resource to all leaders, receptive and customer-focused. Quickly takes necessary steps to repair, resolve and communicate to all parties.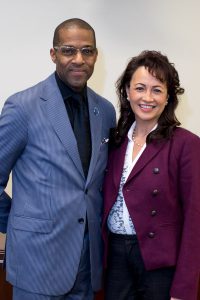 Estrellita Reyes, Clerk II Special Projects, Alameda Hospital – Outstanding retrieval of patient records to expedite care, compassion and determination make a positive difference, a fine example.
The following individuals were unable to attend the Board of Trustees meeting but have additionally been recognized by their CAOs for their outstanding work:
Trinnea Rufus, CNIV in PES, John George Hospital – Caregiver of the Year at the 2014 AHS Gala, amazing service, extraordinary kindness toward family members, families feel happy and secure.
Edward Simeon, Certified Nursing Assistant, Southshore Rehabilitation and Wellness Center – Empathetic, kind, caring and respectful to co-workers, residents and families and friends. Spends time before and after his shift engaging residents in conversation and sharing in their stories.
Margaret Szornel, Registered Nurse, Fairmont Acute Rehabilitation Unit – Extremely flexible with her schedule to support her team and the patients, builds trusting relationships with patients. Excels in her duties, not only clinically, but in relationships with co-workers and patients. Always a great attitude.
Louise Couturier, Interventional Radiology Tech, San Leandro Hospital – Exceptional interaction with young patients and parents, friendly, calm treatment, a fine example for all.
When you see these folks as we go about our work, please be sure to congratulate them. They – and you – are the best examples of how people make all the difference in our success. As we've shown in the past, working together is the way to meet the challenges of the future.