The clinical practitioner, public health leader, and policy advocate has devoted her career to advancing social justice and health equity.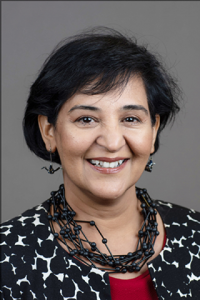 January 24, 2023 – Oakland, CA – Alameda Health System (AHS) announced today that Kinkini Banerjee has been named president of the AHS board of trustees. The board is the governing body of AHS, the public health care provider and medical training institution that has served Alameda County since 1864.
"I am honored to assume the responsibilities of the chair of the board in the 159th year of Alameda Health System's evolution," said Banerjee. "AHS is a vital anchor institution of Alameda County. As we face multiple overlapping crises including the COVID-19 pandemic, exacerbating physical and mental illness, injustice and health inequities, AHS is dedicating resources and infrastructure to break barriers to equitable access to care, treatment, and health. I look forward to working with our board, AHS staff, county leaders, patients, and partners to expand integrated, culturally congruent, seamless continuums of care that honor the humanity, dignity, and agency of everyone we serve in our richly diverse county."
Banerjee has served as a trustee of the board at AHS for nine years, during which she acted as board liaison to the AHS health, equity, diversity, and inclusion (HEDI) steering committee. She brings over two and half decades of experience in the non-profit sector, clinical and public health practice, policy advocacy, and philanthropy addressing a broad range of issues impacting the health, social, and economic well-being of infants, children, women and gender-expansive persons, families, and communities of color. Banerjee is the founder and principal of Sage Transformations, an organization and systems transformation firm. Previously, she served as director of coalitions at the United States Breastfeeding Committee (USBC). She is a past president of the board of Building Futures, which works to end homelessness and violence among women and families.
"As a trustee, Kinkini Banerjee provided invaluable support and guidance through the COVID-19 pandemic and a period of enormous change in health care. She has been a force for transformation who was instrumental in stabilizing our organization, strengthening our culture, and ushering in the adoption of a new strategic plan. At this pivotal time for AHS, I have no doubt that she is the right person to lead the AHS board of trustees. I look forward to partnering with her to serve our mission," said James Jackson, CEO of Alameda Health System.
Banerjee is South Asian Indian and the first immigrant to hold the position of board president at AHS. She succeeds Dr. Taft Bhuket, who served as president of the board of trustees from 2021 to 2023.
"My deepest gratitude to the beloved Alameda Health System staff family and our dedicated Board of Trustees, and to leaders at all levels of positional authority who came before us. We build on their efforts every single day to do and be better today than we were yesterday. I want to especially thank outgoing Chair, Dr. Bhuket, for his committed, fearless leadership as Board Chair to steward AHS at a time of organizational transition," said Banerjee.
About Alameda Health System
Alameda Health System (AHS) is a leading public integrated health care provider and medical training institution recognized for its world-class patient and family-centered care. AHS provides comprehensive medical treatment, health promotion and disease prevention throughout our integrated network of hospitals, clinics and health services. AHS includes three acute care hospitals, four ambulatory care wellness centers, four post-acute facilities and the only psychiatric emergency department in Alameda County. AHS is committed to promoting wellness and optimizing the health of the community through the mission of caring, healing, teaching and serving all. For more information, visit AlamedaHealthSystem.org.
###
FOR IMMEDIATE RELEASE
CONTACT: Eleanor Ajala
Manager, Media and Communications
Alameda Health System
(510) 421-9222
eajala@alamedahealthsystem.org