Experiencing anxiety about going to the dentist is a common response shared by many. In fact, one in three people report putting off preventative check-ups and instead wait until they are in pain and need urgent dental care.
"Oral health is critical to a patient's general health and integrating dental visits with primary care visits can help eliminate these types of dental emergencies," said Chief Chair of Dentistry Dr. Charmaine Ng, who oversees general dentistry and the maxillofacial surgery program.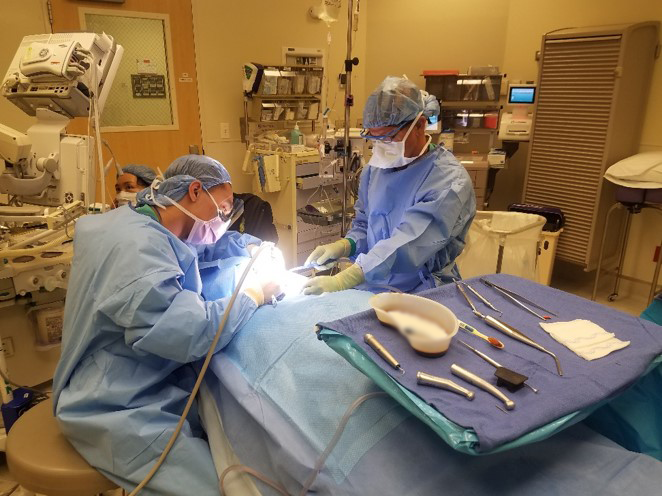 According to Dr. Ng, integrating dental care conversations with patients during their primary care visits or, medical-dental integration, is an effective way to improve the overall health of our patients.
This approach is broadly supported. According to the Centers for Disease Control and Prevention (CDC) recent surveys showed that 79% of patients, 96% of dentists and 90% of physicians believe oral health and overall health are connected.
According to Dr. Ng, evidence links oral health, specifically periodontal (gum) disease, to several chronic diseases including diabetes, heart disease and stroke. She said it can also greatly contribute to behavioral health as it impacts confidence and self-esteem. The literature shows that conditions such as periodontitis or misaligned teeth can lead to depression and anxiety impacting getting and keeping a job and limiting social interactions with friends and family.
"Unfortunately, dental care is not typically seen as part of the care team, but it should be," said Dr. Ng. "It's a touchpoint for both dentists and PCPs to deliver better quality care for our patients."
Dr. Ng shared that her goal is to create a greater collaboration with primary care physicians (PCPs) to ensure they have a comfort level with asking patients about their oral health. "It's critical that dentists and PCP's incorporate oral health and general health in patient visits," said Ng.
As a patient-centered health provider Ng believes taking advantage of every touchpoint or interaction with AHS patients is key to their better health. She is currently reaching out to engage PCPs in this effort.
"Working together, dentists and PCPs can deliver better quality care for our patients and the community we serve."
For PCP's this includes educating patients on the nature and prevention of dental disease for better health and making appropriate referrals for dental care when necessary. For dentists it means inquiring about a patient's general health to identify any potential risks or underlying conditions connected to oral health.
In addition, people who are depressed or experiencing high stress are less likely to prioritize their oral health including regular dental services including preventative cleanings.
"Regular preventive dental care helps keep patients' teeth healthy and address any tooth decay or dental problems before they become more serious and impact their total health and wellness," said Dr. Ng.
Dr. Ng shares these tips to protect and maintain your oral health:
Brush your teeth at least twice a day for two minutes each time. Use a soft-bristled brush and fluoride toothpaste.
Schedule regular dental checkups and cleanings.
Floss daily.
Eat a healthy diet and limit sugary food and drinks.
Replace your toothbrush every three to four months, or sooner if necessary.
Avoiding tobacco use.
For more information visit: