AHS-Highland Hospital took two top honors earning the American Heart Association's (AHA) 2021 Mission: Lifeline STEMI and NSTEMI Achievement Awards. The awards recognize hospitals for implementing quality improvement measures that ensure cardiovascular patients receive efficient and coordinated care, leading to more lives saved, shorter recovery times and fewer returns to the hospital.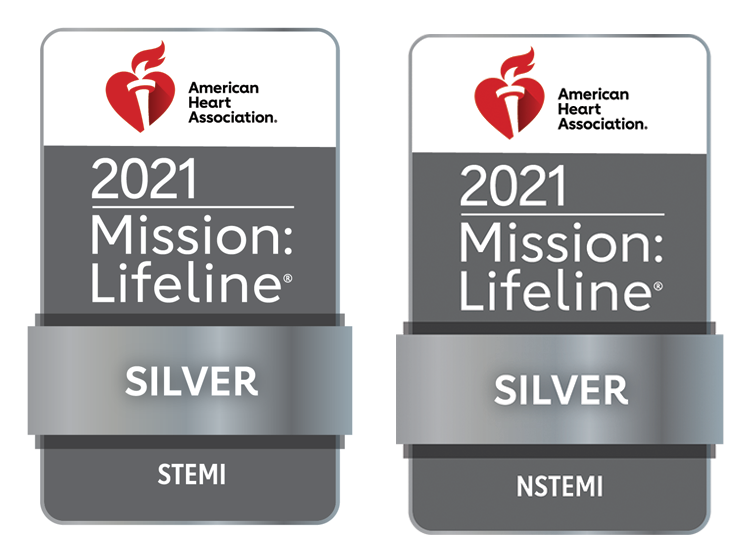 Dr. Xin Yang, director, Interventional Cardiology shares, "This recognition was only made possible through the tireless dedication of our staff and AHS leadership in the ED and Cardiology so we can continue to lead quality improvements to be the very best we can be," says Yang.
Yang said the national recognition is even more impressive considering it was the first year AHS-Highland participated in the AHA ST elevation myocardial infarction (STEMI) and AHA Non-ST elevation myocardial infarction (NSTEMI) Get with the Guidelines quality initiatives.
AHA's Get with the Guidelines is a program for improving care by promoting consistent adherence to the latest scientific treatment guidelines.
Each year more than 250,000 people experience STEMI, the deadliest type of heart attack, caused by a blockage of blood flow to the heart that requires timely treatment. To prevent death, it is critical to restore blood flow as quickly as possible.
AHS-Highland Hospital has now achieved a score of 100% for door (arrival to ED) to balloon (opening of the occluded vessel) time within national target of 90 minutes, with an impressive median time of 59 minutes.
"This amazing feat requires staff in the ED, Cardiac Catheterization Lab and the Interventional Short Stay unit to work together seamlessly in a finely choreographed dance to provide the best care patients can get in their greatest time of need. I am immensely proud and privileged to be working with such an incredible team." says Yang.