Cupid allegedly has magic powers that can help people fall in love. When Sophie Barbant, MD, trained cardiologist was asked what medical magic power she would like to possess, she said she would give everyone equal access to care. Flying chubby babies are cute, but what's not cute, is heart attack.
"2,000 people die every day in this country from cardiovascular (heart) disease. Hopefully, American Heart Month brings some awareness to this issue and encourages people to think about prevention," said Barbant, Director of the Cardiology Clinic, Noninvasive Cardiology Lab and the IAC accredited Echocardiography Lab at Alameda Health System-Highland Hospital.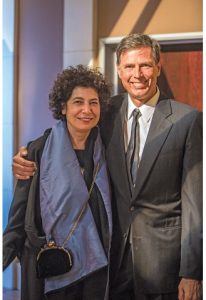 Barbant, originally from France, has been in the United States for over 20 years and has worked at AHS for almost six. If you're wondering how she ended up in the states, the answer is she followed her heart. She is married to Eric Snoey, MD, Vice-Chair of the Department of Emergency Medicine at Highland Hospital.
Barbant and her team see about 100 patients a week at the clinic and estimate they perform 5,000 echo and stress tests (echocardiogram or EKG) a year. At times, they have patients run on treadmills to monitor their blood flow during exercise. "We are testing to evaluate patients with all kinds of diagnoses. They may be complaining of chest pain, they may have previously been diagnosed with coronary artery disease, we may have suspicions they are suffering from heart failure or valvular heart disease," said Barbant.
Heart disease is the leading cause of death in the United States for both men and women and has a variety of causes, but can often be attributed to lifestyle factors. Some common issues that can increase a person's risk of getting heart disease are smoking cigarettes, having hypertension (high blood pressure), diabetes and/or not eating a healthy diet.
"Prevention really is important. By the time we see many of our patients they are so sick that we can't truly pinpoint when, why or how it happened," said Barbant. "Lack of access to care is a big part of this. Many patients may wait until the last possible moment to seek care, often arriving in dire straits. But once here, they get the acute care they need to get better and the continuity of care going forward to keep them healthy. I am so grateful that Highland Hospital exists."
Another thing she and her team sees is people who are suffering from heart attacks being brought into the hospital by their loved ones and at times it is too late. Her recommendation to anyone who believes they are suffering from a heart attack is to call 9-1-1 immediately. She recognizes that there is not enough education about symptoms of a heart attack which can include chest pain and discomfort, shortness of breath, pain in arms, neck and more. "If you feel something unusual, please get it checked out, do not wait," she added.
The cardio team's goal is to expand access to outpatient clinics and educate as many people as they can on prevention methods, even encouraging adults to educate children. Barbant says a lot of people know how to lose weight, but they aren't as familiar with what a healthy diet is, which makes a program like "Food is Medicine" so important. She says healthy living is a lifestyle, not something that happens overnight and something that needs to be maintained continuously.
"I became a doctor because there is nothing greater than dealing with humanity. There is nothing else that can get you closer to the root of a human being and be able to effect change at the same time," said Barbant. "At Highland, we change lives on a daily basis. Our team thrives on excellence. We have incredible partners, physicians and staff. Everyone is important."