Teaching all, part of Alameda Health System's (AHS) mission statement was on full display this week as 44 Oakland Unified School District high school students graduated from the AHS HealthPATH program.
At the graduation HealthPATH participants had a chance to share about their experience.
"There wasn't one defining moment in this program for me because each time I got to come to Highland I cherished it," said Racquel Richardson, senior at Oakland High School. "I had a chance to rotate through many departments like materials management, the morgue, ICU and the OR. Each one of these experiences have shaped me and shown me that there isn't just one aspect of health care."
Many of her colleagues in this cohort echoed similar sentiments and gratitude.
HealthPATH is an AHS workforce development initiative that prepares youth and young adults for healthcare careers. Students that participated in the Health Excellence and Academic Leadership (HEAL) internship this fall were students who were in the health science and medical technology track at their high school.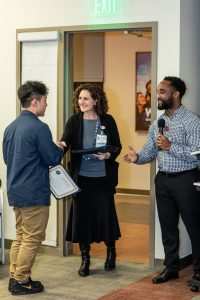 "I've worked with young people and career development for the majority of my career and I have never seen a program that offers this much exposure to a young person," said Joseph Peters, coordinator for HealthPATH. "Some of the students have been allowed in operating rooms or even witnessed a child birth. This isn't replicated anywhere else and it is a fantastic opportunity for them."
Peters, who is responsible for managing all the relationships the students have with various departments at AHS-Highland Hospital, is also responsible for facilitating all the curriculum and booking all the guest speakers that meet with the students in the classroom.
"The youth in this program are introduced to a variety of things in a hospital setting like exploring our sim lab, taking vital signs of patients (with proper supervision), delivering equipment to various departments, serving as an interpreter for patients and putting together patient feedback surveys to name a few. Additionally, when they are in the classroom we discuss topics such as personal health, population health, social determinants of health and healthcare career exploration."
HealthPATH's ultimate goal is to cultivate a pipeline of diverse and culturally competent healthcare workers who will become the future workforce of AHS, which is why all of the students who participate are local to accurately reflect the patient population served.
"I think our program deepens students' connection with their city. The experience they receive from the patients they go on rotation with makes them more aware of the social determinants of health in their community," said Peters. "HealthPATH gives them a basis for a little more critical thought about their place in the world and how fortunate they are to be healthy and living to have these
opportunities to pursue their education. It provides perspective to students and jumpstarts them on their journey to their careers."