Through our HealthPATH program Alameda Health System (AHS) is investing in the next generation of health care workers by providing a path to health care careers for students from economically disadvantaged communities. Every year HealthPATH's nine programs provide internships and other work-based learning experience to more than 500 middle school to college students who come from communities that are most affected by health inequities.

"The lack of educational and career opportunities for low income youth of color perpetuate economic disparities and lead to deepening health disparities. Our programs support educational attainment and career success which leads to good jobs, and ultimately leads to increased economic security," says Jessica Pitt, Executive Director of HealthPATH.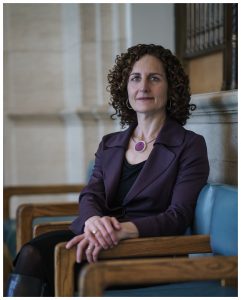 HealthPATH is unique in that it offers opportunities to students who might not otherwise gain the exposure, experience and mentorship that HealthPATH provides. In addition to summer internships, after school programs and in-school programs where students earn academic credit, HealthPATH has continued to create programs that focus on specific student needs in the community. The Young Men of Color internship that began in 2018 is one way AHS is working to increase diversity in health care and ensuring the workforce of the future represents and reflects the community it serves.
"Very few hospital systems in the Bay Area are making this kind of investment in their young people in the way AHS is doing," says Pitt. "We don't have a minimum GPA requirements, we target at risk youth and we have programs for boys of color who we know are drastically underrepresented in pipeline programs and in health professions."
What sets HealthPATH's students apart is not only their overwhelming passion and enthusiasm for a career in health care but also their dedication to giving back to their community. For Kareem Mohamed, a junior at the Oakland School of the Arts (OSA) who participated in the Fall 2020 Health Excellence and Academic Leadership (HEAL) internship program, the experience changed how he viewed health care.
"HEAL gave me a whole new mentality about what it means to work in health care," says Mohamed. "I saw that not only could I give back to my community by providing physical care, I could also continue to exercise my passion for helping people who have experienced systemic racism in health care." Mohamed serves on the board of Students of Color and Latino Unidos at OSA.
He is currently taking the next step on his education journey and applying for undergraduate nursing programs. To learn more about Mohamed's experience with HEAL and the other HealthPATH programs, watch the January 6th Leadership Desktop Chat.
The providers and staff at AHS who support and sponsor HealthPATH students are equally enthusiastic about HealthPATH and supporting students like Mohamed to reach their career goals.
Chantal Gomes, M.D., chief resident, Internal Medicine at Highland Hospital who has been volunteering her time with HealthPATH students for several years says, "I am a huge supporter and advocate of HealthPATH and I believe that this is one of the answers to diversifying the face of medicine."
Visit the HealthPATH website to learn more about the program and how it is making an impact on the community and a difference in the lives of students.
If you would like to support HealthPATH by hosting an intern for the Gateway to Health Careers summer program contact Minjie Liu, manager of HealthPATH Operations.