On National Hospital and Nurses Week Alameda Health System (AHS) celebrates the commitment and dedication of our health care heroes who consistently demonstrate excellence in all they do and this year we had the opportunity to talk to several AHS employees who were recently awarded the STAR award for going above and beyond the call of duty.
Every day our health care heroes make personal connections with patients, residents and their families. Flora Cabanayan, Registered Nurse (RN) at the Wilma Chan Highland Hospital Campus (WCHHC) shared she feels privileged to be able to make a difference in people's lives and recalled a patient who had many readmissions due to a chronic venous ulcer, an open wound that can take longer than usual to heal.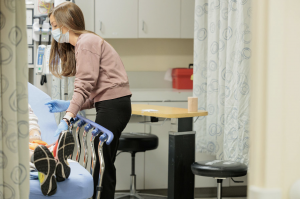 "It's the personal connection with patients that's always the most fruitful. They don't forget how their nurses make them feel seen and heard," said Cabanayan. "I had a patient who for various reasons struggled when it was time to change her dressing. Fortunately, she and I were able to bond and she allowed me to provide her the care she needed to heal."
Pamela Loftus, RN and charge nurse in the emergency department at Alameda Hospital shares Cabanayan's passion for her patients. "There's so much about caring for others that fills my heart and soul," she said.
One particular patient connection stands out for Loftus. "I met a cancer patient whose love for horses was as great as mine," Loftus said. They bonded over stories about a mustang named Hawk that she had just begun working with in the competitive sport of endurance horseback riding. "Ultimately, he lost his battle with cancer. His family reached out to thank me and shared that he could always 'go on an adventure in his mind' whenever I described the many horse trails in the northern and southern California."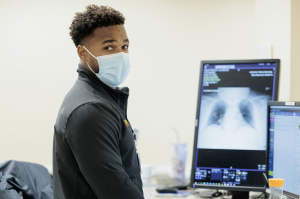 For many nursing is a calling. Parish Ford, RN, pediatrics at the WCHHC shared, "I can't say that I chose nursing for a career, it chose me and I'm definitely here to stay. Every day is a new and rewarding experience helping patients and their families receive the best care."  The mother of one of Ford's patients was so grateful for the exceptional care she gave her child and the clinical advice she provided many times over the phone that she brought Ford a plant and said, "This is for always helping me."
Providing high-quality clinical care is also what drives Patricia Arteaga, RN, at San Leandro Hospital. "The most fulfilling part about being a wound and ostomy nurse is helping patients understand their wounds, ostomies (an opening made by surgery, from an area inside the body to the outside) and various skin conditions," she shared. For example, one of her patients had tried multiple treatments for a leg wound with no success and she was experiencing low self-esteem because of it. Thanks to a wound care product Arteaga recommended the patient experienced improvement at the first dressing change. "The patient was so grateful she broke into tears, she said. "Seeing a wound that plagued the patient for years suddenly start responding to my interventions was so rewarding."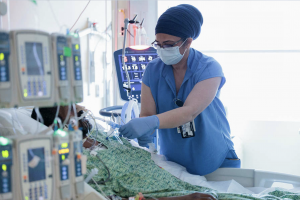 Honoring our health care heroes during Hospital and Nurses week is always special at AHS but this year it is even more meaningful as we celebrate the end of the COVID-19 federal Public Health Emergency. Provider of the Quarter Evan Rusoja, MD, PhD, medical director, acute care health outcomes and emergency medicine and a key member of the AHS COVID-19 Vaccine Taskforce shared his reflection on the pandemic response.
"We are incredibly fortunate at AHS to have so many colleagues who went above and beyond during the pandemic," said Rusoja. "They were doing their day jobs, responding to the many challenges that came with the pandemic and supporting each other in ways big and small."
One of the earliest challenges for the multidisciplinary taskforce was implementing a consistent, large-scale and equitable effort to operationalize testing sites and vaccine distribution. As a testament to their dedication and commitment to ending the global pandemic, AHS staff began administering COVID-19 vaccines within 48 hours after receiving the first shipment.
AHS staff answered the call during the pandemic as they do every day for our patients and the community we serve. Providing patient- and family-centered care is a collective effort and shared purpose for our staff.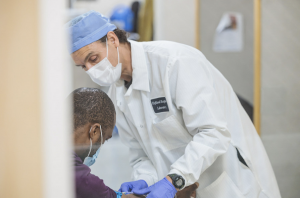 Providing exceptional patient care extends beyond the four walls of AHS through the mobile health clinic which answers a basic need for access to health care for those who are experiencing homelessness. "Breaking down barriers to high-quality care for our most vulnerable patients in the County is central to the AHS mission of serving all," said Brenda Chan, project coordinator, homeless coordination office. "We meet patients where they are and bring health care services directly to those most in need." She collaborates with community partners to schedule the mobile clinic at various locations across the County including the First Presbyterian Church of Hayward, Bay Area Community Center (BACS) Wellness Centers and the Mandela Community Cabins in Oakland.
During the height of the pandemic, the AHS mobile clinic, a collaboration with Alameda County Health Care for the Homeless (ACHCH) was on the front lines in the community providing COVID-19 vaccines and testing for patients without access to transportation and health care services. They also received hygiene kits and care coordination and referrals to community resources for healthy food and housing.
"As the past three years have shown us adaption to change is inevitable but because of everyone's hard work and dedication, we are standing stronger than ever, living up to our mission and continuing to serve our communities when they need us the most," shared Rusoja.