Last month Alameda Health System (AHS) Hayward Wellness Center (HWC) staff attended the We Grow Medicine mural unveiling at the Dig Deep Farms Food Hub in San Leandro. The event was hosted by ALL IN Alameda County (ALL IN), the Alameda County Sheriff's Office, the Alameda County Deputy Sheriffs' Activities League (ACDSAL) and Blue Shield.
At Alameda Health System (AHS) we know that access to healthy foods is essential to the health and wellbeing of our patients. Food insecurity, or a lack of access to nutritionally adequate foods, can lead to chronic health problems in adults like diabetes, heart disease, high blood pressure, obesity, and mental health issues.
"It was a remarkable event to celebrate a meaningful partnership that has had such a positive impact on the health of our patients. We are grateful for the work the teams do every day to connect our patients to health and community," said Dr. Sumita Kalra, AHS Medical Director for the Hayward Wellness Center.
To address food insecurity and increase access to even more AHS patients, HWC has partnered with ALL IN Recipe4Health to expand its existing Behavioral Change and Food is Medicine program. The program provides healthy food, health education and social connection directly to patients who lack reliable access to transportation, food, and other resources.
The partnership with Recipe4Health uses three ingredients to improve the health of patients and the community: a Food Farmacy, a Behavioral Pharmacy, and Food is Medicine training for health center staff.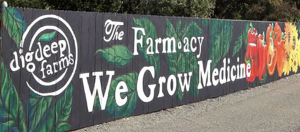 "Here at the Hayward Wellness Center, patients are referred to the Food Farmacy by their health care provider when it's determined there is food insecurity or a medical condition that may improve with nutrition. Then ALL IN's Dig Deep Farms delivers local, organic, seasonal produce to our patients' doorsteps once a week for four months. In addition, we offer group medical visits with a health care provider and registered dietician to support our patients on their health improvement journeys," said Elibet Jimenez, Group Medical Visit Coordinator at Hayward Wellness.
Jimenez said, through the partnership HWC staff also received re-training on Food is Medicine principles and assistance with workflows to ensure the sustainability of the program.
Learn more about the Hayward Wellness Center Food is Medicine program.