Many are headed back to school during this month and whether students are attending class in person or participating through virtual learning, it is important that they are up to date on their immunizations especially during COVID-19 and as the flu season approaches.
Nationwide, immunizations have shown a decline by approximately 40% from late February through April. In response, staff at Hayward Wellness launched a curbside immunization clinic and are calling patients due for vaccinations and offering the drive- by service to make vaccines more accessible and convenient for AHS patients. The patient outreach targets those younger than 2 years old and school age children who need vaccinations.
"We've seen a decline in routine immunizations since March when the shelter in place was first ordered for Alameda County," said Interim Medical Director of Hayward Wellness Srilekha Puranam MD. "The reasons include many factors including patients' fears about contracting COVID-19 and the ability to safely social distance during a doctor visit. By keeping patients in their vehicles when getting immunizations, we're hoping to be able to address concerns and keep people healthy."
Regular immunizations are important for children, but critical for adults as well because immunizations save lives and prevent the resurgence of vaccine preventable illnesses like measles. Keeping up with vaccinations is key to the prevention and protection against many illnesses that impact our patients and the community we serve.
Located in the parking lot just outside AHS's Hayward Wellness, the drive-by vaccination center was launched in July 2020.  "Our team began to float the idea around back in April," said Puranam.  The objective was to ease patient anxiety and get them to come in for critical vaccinations that are due or even past due.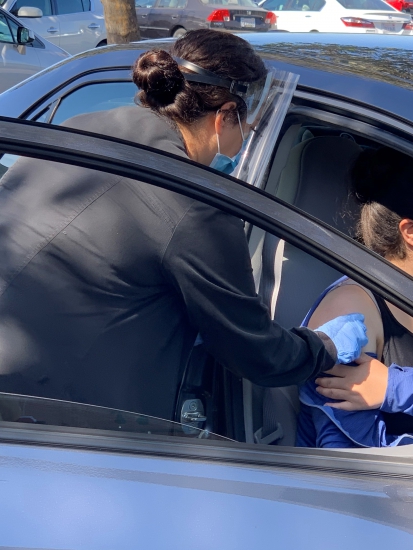 Initially, the staff was a bit wary about the logistics and the implementation of this new way of working. "Now that they have seen it in action and how it benefits the patients, they are all for it," said Puranam.
On top of calling patients who are due for vaccinations, Licensed Vocational Nurse Lisa Mills who administers the vaccinations at Hayward Wellness is proactively offering the curbside option to patients when they call to schedule appointments.
The 20-year veteran of AHS said that the patient feedback has been overwhelmingly positive. "They are truly appreciative that we are taking their feelings and concerns into consideration during COVID-19 and providing them with a new and convenient approach to getting their vaccinations," said Mills.
Puranam adds, "patients find it more comfortable because the waiting time is reduced, and they do not have to come in contact with other patients. Looking ahead, Puranam said,  "As flu season approaches, we are exploring ways to expand this model to offer flu shots and do it without our patients having to make an appointment."
Open on Thursday and Friday mornings from 9-11:30 a.m., Hayward Wellness has administered over 90 immunizations to date.  Appointments are required and only AHS patients are eligible to participate.