Patients from communities of color make up more than half of the national waiting list for a life-saving organ transplant and yet they are the least likely to choose organ donation.
For example, while 28.5% of the total candidates currently waiting for transplants are African American, they comprised only 12.9% of organ donors in 2020. Hispanics made up 20.5% of the total candidates waiting for transplants, but only 14.6% of organ donors in 2020.  In total, there are currently more than 106,000 people on the national organ transplant waiting list including people of every ethnicity.
Closing the disparities gap in organ donation is critical in serving Alameda Health System's (AHS) diverse community. According to the Office of Minority Health (OMH), although organs are not matched according to race or ethnicity and people of different races match one another, all people waiting for an organ transplant will have a better chance of receiving one if there are larger number of donors from their racial or ethnic background.
This is because compatible blood types and tissue markers that are critical qualities for donor and recipient matching, are more likely to be found among members of the same ethnicity. A greater diversity of donors may potentially increase access to life-saving organ transplants for everyone across the country.
The reasons for this gap in organ donation in communities of color vary but literature shows that there are long-standing beliefs and a history of mistrust in the medical community that likely contribute to a culture of hesitancy.
Increasing education about organ donation is critical to help dispel myths and misconceptions. For African Americans it's even more important to understand the importance of organ and tissue donors as they are at greater risk than whites for diabetes and high blood pressure, leading contributors to organ failures.
Knowing the facts and educating yourself on organ donation is important and it's also important to acknowledge that it is a very personal and emotional decision for many. Having intimate conversations with friends and loved ones for support and feedback can be invaluable.
In addition, having experts to talk with about organ donation can help with the decision-making process. Located in the East Bay, Donor Network West provides that expertise and educational support. Donor Network West facilitates the recovery of every lifesaving organ across northern California and northern Nevada and connects donors' gifts to those in desperate need of an organ transplant.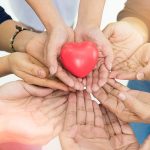 "Donor Network West is proud to partner with Alameda Health System to help save and heal lives through organ and tissue donation, giving hope to those waiting for a lifesaving organ transplant," said Janice Whaley, president and CEO of Donor Network West. "With more than 20,000 people waiting for an organ transplant right here in California, the need for more people to register as organ donors continues to be great. Anyone can register to become an organ donor and just one donor can save up to eight lives through organ donation and heal another 75 through tissue donation. You have the power to make a difference in someone's life."
AHS has a long-standing relationship with Donor Network West in support of their mission to save lives through organ and tissue donation for transplantation and research. Recently, three people in California from 14 to 60 years old received the gift of life from an AHS patient who was registered as an organ and tissue donor.  His family honored his final wish to give the gift of life to others and as a result his organ recipients can now look forward to a brighter and healthier future.
Also, in December 2021 an additional four people received the gift of life from an AHS patient on the national registry list. "These self-less acts of kindness to those in need are helping to close the disparities gap and provide much needed help to patients who just can't wait," said Nakia Madrigal, donation program consultant at Donor Network West. "This is what makes organ and tissue donation so extraordinarily heroic, life-saving and powerful
To learn the facts and debunk myths about organ donation or to register as an organ donor visit DonorNetworkWest.org.