In a grassroots effort to provide vaccines for marginalized homeless populations, Alameda Health System's Mobile Health Clinic partnered with Alameda County Health Care Services Agency on a pilot mobile vaccination program that began on February 22, 2021. The goal was to reach smaller community pockets where access to the vaccine proved to be the most difficult.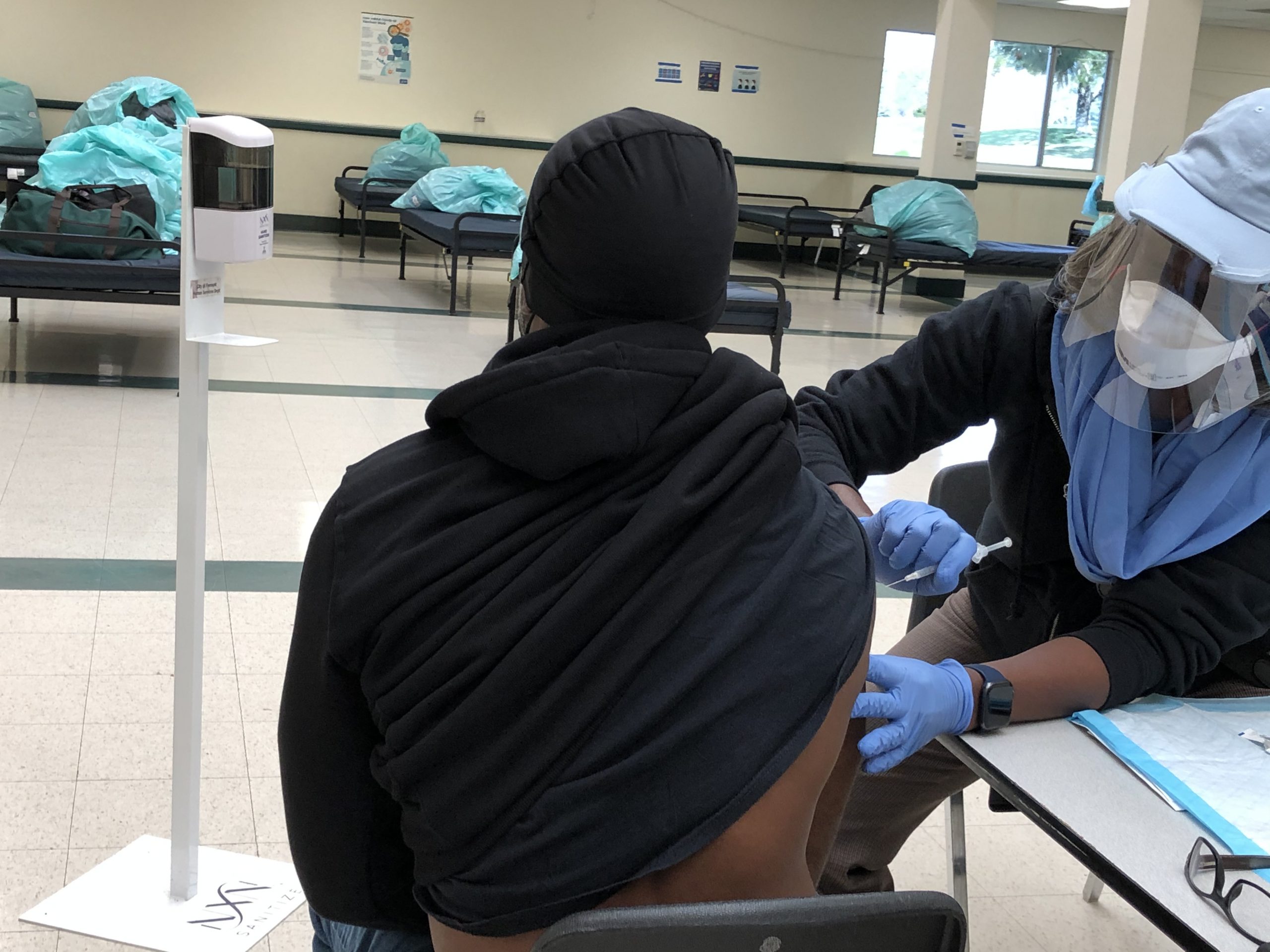 The pilot was one of eight programs that included five sites easily accessible to the homeless in Fremont, Oakland, Hayward, Alameda and Castro Valley. According to Damon Francis, M.D., Medical Director of Ambulatory Care at Highland Hospital and physician lead for the Mobile Health Clinic, they partnered with each site provider to promote the mobile vaccine clinic in the area. The clinic was then set up for three days for area homeless to see the clinic, learn more and get the vaccine.
Using a checklist developed by the County's Health Care for the Homeless program, AHS worked with shelter providers to coordinate a registration area, symptom check, documentation station and private injection site for patient safety, privacy, and visual comfort. The team also had to find accommodations for their portable refrigeration unit. But all this was the least of their challenges. The biggest hurdle was getting past the hesitation many people have in getting the vaccine.
"It's not a refusal, which is a good thing. It's a hesitation which offers an open door to learning more from a trusted expert, family member or friend," explains Lucy Kasdin, Alameda County Health Care for the Homeless. "There is a heavy education component before we even start."
Family Nurse Practitioner for AHS's Mobile Health Clinic, Wanda Johnson, has become very experienced in vaccine education. As a nurse practitioner, a Black grandmother of three and daughter/confidant to her healthy and active 90-year-old mother, she is naturally calm and explains the need for a vaccine in a personal way.
"It's a choice everyone needs to make for themselves, based on their unique situation. Like any other decision, you need to gather the right information and assess the best course for you and your family. I tell them that I chose to take the vaccine because I want to protect my mother and see my grandchildren. That's very important to me. Then I ask, 'what's your situation and what's important to you?"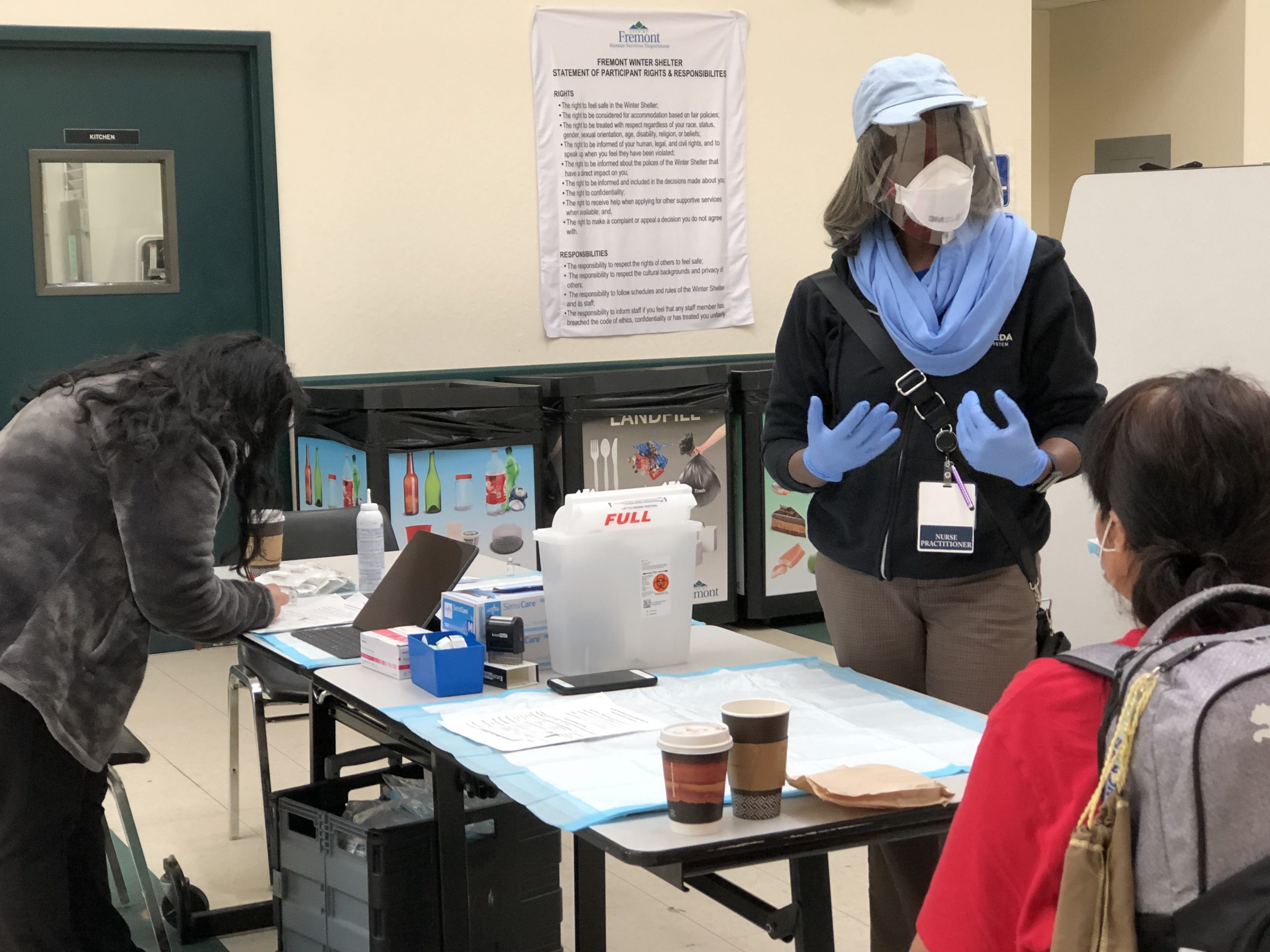 Another concern the team faced was whether consumers would return for their second dose 28 days later. The first "Second Dose" clinic was held on March 24 and the turnout was rewarding. Out of 36 consumers expected for their second dose, only one first-time vaccine patient did not arrive for the second dose. A total of 35 people were fully vaccinated that day! The clinics have now moved to the one-dose Johnson & Johnson vaccine. Talking to people about taking one shot eases the conversation as it is similar to the flu shot.
"Our numbers aren't big, but that's by design," adds Kasdin. "Every single arm is like a giant triumph that we can all be proud of."
The clinic continues to operate Monday through Wednesday at varying locations. With one vaccinator, the mobile clinics give out about 20 doses per day and to date more than 250 doses have been administered to Alameda County homeless residents.