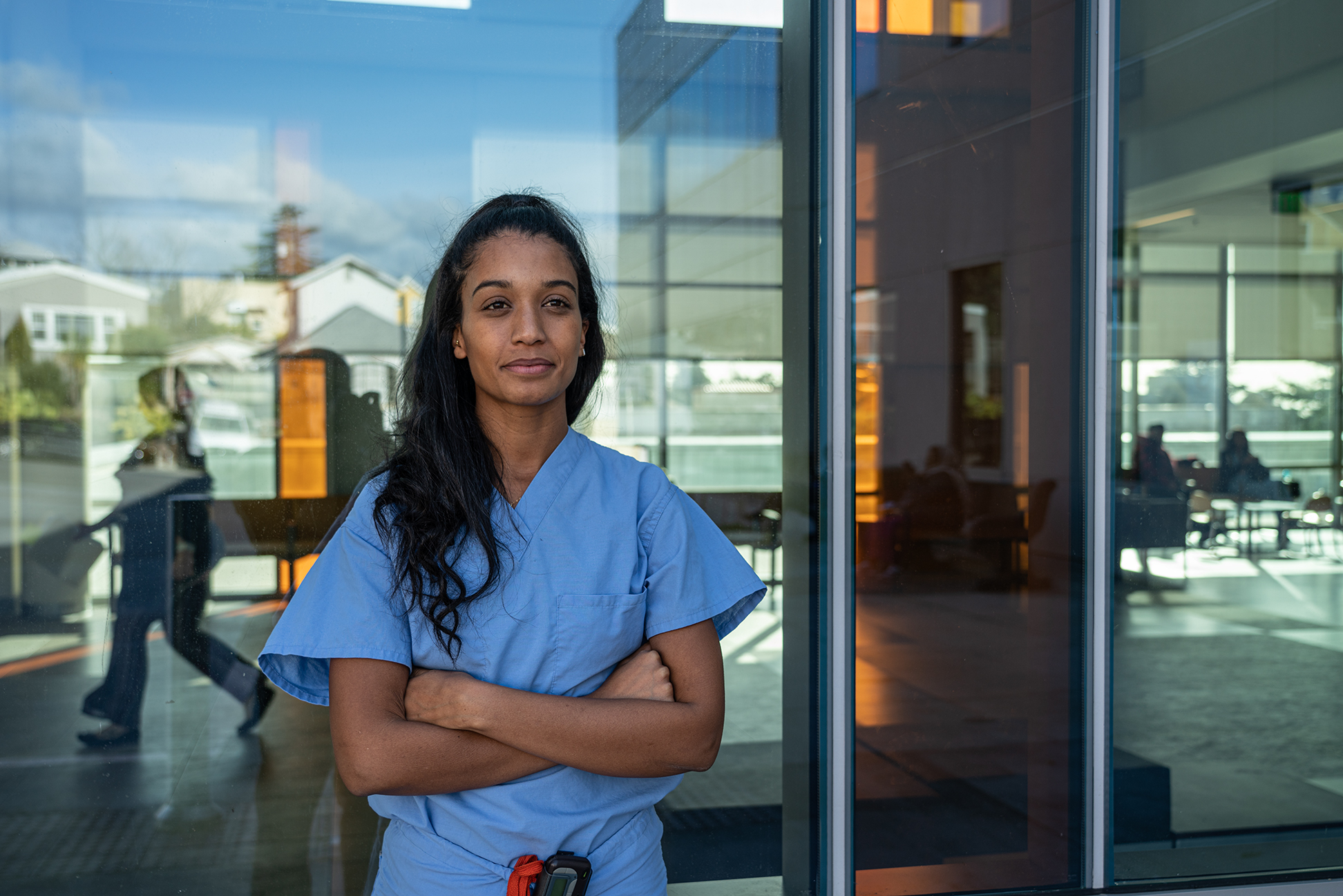 "Finding and honoring patient autonomy is one of the most important things I can do. And making sure that a patient knows that every decision that's made in the hospital is their decision and I'm here to support them."
Amber Bell
Certified nurse-midwife, Alameda Health System-Highland Hospital
At a very young age I knew that I wanted to work with babies and pregnant women. Hearing the stories of my family, who lived in the South—all the babies were born at home by midwives in Mississippi. On my mother's side, I also have a long history of midwives in our family. There's a long legacy and history of black midwives in the United States. So it felt like a calling to uplift communities and pregnant women.
I had a baby in the middle of midwifery school, so that was an added challenge to becoming a midwife. A lot of sleepless nights on top of the sleepless nights being a midwife. Having a baby really impacted my work. It made me more focused on all the details—entering the room with respect and quiet, helping to keep that space sacred. It made me more attuned to the fine details of what's important while you're pregnant and especially while you're in labor.
It's something I'm working on every day—truly serving the patient. I am here to offer recommendations, suggestions, or the evidence as I see it. And then respecting and really helping the patient find their voice and respecting their decision, whatever that may be.
Finding and honoring patient autonomy is one of the most important things I can do. And making sure that a patient knows that every decision that's made in the hospital is their decision and I'm here to support them.
Highland is a place where you really can come to be honored and respected. Every day we are trying our best to provide the best patient care and help you welcome new members into your family.