At Alameda Health System (AHS) we are committed to the health and wellness of the diverse communities we serve, including eliminating race-related disparities in cervical cancer care for Black women.
One of the most effective ways to achieve this objective is through early detection and regular cancer screenings. On Saturday, January 29 in support of National Cervical Cancer Awareness and Screening month, AHS provided free cervical Pap smear tests for Black patients and community members at our Eastmont Wellness Center.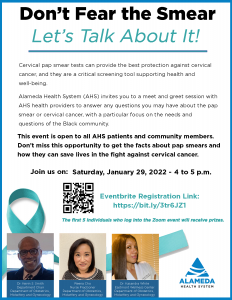 Hosted by the ambulatory Cancer Collaborative, the pap smear clinic was held in partnership with the Quality Improvement Program (QIP) team and the department of Obstetrics, Midwifery and Gynecology. The clinic focused on advancing critical health screenings for Black patients and community members disproportionately impacted by cervical cancer and was made possible from a grant funded by Pfizer Global Medical Grants and overseen by the ACS to address racial disparities in cancer screening, diagnosis and treatment.
"As a member of the Black community, I understand the emotional toll of seeking support and understanding in a health care setting," said LonZaya' Williams, project coordinator in the Ambulatory department. "This grant gives AHS the opportunity to reassure Black patients and people in the community that we all have a voice, our feedback is welcome, and we can take control of our own health."
Cancer is a disease that can affect everyone, but it doesn't affect everyone equally. According to the American Cancer Society (ACS) Black women are far more likely to have a late-stage diagnosis of cervical cancer, and more likely to die from the disease than any other racial or ethnic group in the U.S.
In addition, the literature states that the differences in cervical cancer survivor rates for Black women reflect unequal access to the interventions and screenings that are necessary to prevent and treat the disease.
Today cervical cancer has become one of the most preventable types of cancer due to the increase in appropriate screenings and vaccinations including Pap and HPV tests and the HPV vaccination. A Pap test is the most common test used by providers to look for early changes in cells that can ultimately lead to cervical cancer.
"We're honored to be only health care organization on the West Coast selected out of 118 proposals to receive this $400,000 grant to address disparities in diagnostic delays for cervical, breast and colorectal cancer in African Americans," said Dr. Kevin Knopf, chairman of the Oncology Department.
The ambulatory Cancer Collaborative who hosted the clinic reviews AHS' performance on timely follow-up for abnormal cancer screening for Black patients. It is composed of AHS employees and community members who meet regularly to discuss addressing structural racism and racial inequities in cancer outcomes.
Support a friend or loved one by spreading the word about the importance of cervical cancer awareness and screening. If you or someone you know is due for a Pap smear test or other routine screening, contact your primary care provider (PCP) or OB-GYN.  Early detection is key.