At Alameda Health System (AHS) patient experience is at the center of everything we do so we can provide the best quality care for our patients and the community we serve.
"The patient experience is an integral component in measuring quality and includes several aspects of service that patients value when seeking and receiving health care," said Director of Care Experience Olivia Kriebl. "We often see patients at their most vulnerable and it's our collective responsibility to partner with them on their health care journey, ensure their voice is heard and feel connected to their care delivery team."
Patient experience includes a wide range of interactions or touchpoints with health care workers and support staff who ultimately frame how patients perceive their quality of care.  The ability to get timely appointments, easy access to health information and good communication with their health care providers are just some of the factors that determine success.
Understanding the patient experience is a key step in improving quality of care.  By looking at various aspects of the patient experience at AHS, the Care Experience team can better assess the extent to which patients are receiving care that is respectful of and responsive to diverse patient preferences, needs and values.
Kriebl shared that evaluating the patient experience along with other quality measures such as clinical care and safety outcomes are essential for identifying where we are performing well and where we have opportunities for improvement across the system.
One of the ways AHS is working to raise the bar on the patient experience is by leveraging various two-way communication channels including surveys, text, telehealth and MyAlamedaHealth among others.
A recent AHS-Highland Hospital patient shared his feedback and appreciation for Environmental Safety (EVS) and Nutrition Services workers, "The quality of my stay was excellent. My room was cleaned from top to bottom at least three times a day and I never had to wait to eat.  My meals were always delivered fresh and on time," he said.
In addition, AHS continues to implement critical best practices and initiatives to positively impact the patient experience including making rounding a part of standard work that is led and modelled by CEO James Jackson and other senior leaders.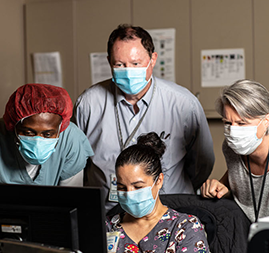 "Making rounding part of standard work empowers staff to speak up and share their ideas so we could quickly address concerns about improving patient care and the staff culture. It's critical to go to the Gemba and get a first-hand account of what is happening and show staff that leadership is ready to roll up their sleeves and problem solve with them," said Kriebl.
Creating a positive and inclusive staff culture is the focus of Just Culture, a recent initiative designed to drive employee engagement. Just Culture is about how leadership and staff interact in their day-to-day work and is built on a foundation of trust, promoting a culture of learning and constant improvement.  The literature shows that improving employee engagement can boost patient satisfaction and other elements of the patient experience.
Kriebl and the Care Experience team reinforces that everyone at AHS has a role to play for improving the patient experience and encourages all staff and medical staff to follow these six simple service standards and best practices:
Make eye contact and smile.
Practice kindness and patience—treat patients the way you would want your loved one treated.
Use G.I.F.T (Greet, Introduce, For, and Thank you) at every patient encounter—telephone and in-person.
If you see a call light in patient care areas, stop and check in on the patient. You don't have to be a clinician to check in to make sure the patient is safe and comfortable!
If you see a patient who is lost, walk them to the location. Some of our facilities can be difficult to navigate!
Play a role in keeping our environment clean and quiet.
"Every employee directly or indirectly can make a meaningful difference in the lives of our patients," said Kriebl. "Personalized care, communication, compassion and a gentle touch are all hallmarks of the exceptional patient care experience at AHS," said Kriebl.
For more information and tools to support the patient experience visit:
This is the first in a series of stories highlighting the patient experience and exceptional quality of care at Alameda Health System.