June is Wound Care Awareness Month and Alameda Health System's (AHS) Creedon Advanced Wound Care (CAWC) raises awareness about the growing need for wound care to nearly seven million Americans who are currently living with chronic wounds. The month-long celebration provides an opportunity to educate physicians, patients and the general public about the prevalence of chronic wounds and the advanced wound care solutions that are available.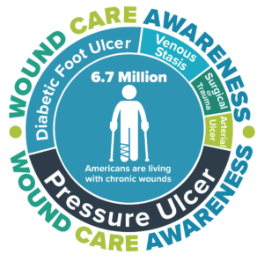 Last year CAWC provided advanced wound care to over 9,000 patients resulting in a comprehensive healing rate of 82.56% and a patient satisfaction rate of 94.67%.
"Having a chronic wound for several years can be devastating for people.  The idea of taking a wound and actually closing it up and creating a usable limb where one was not before is exciting to me", said Dr. Donato Stinghen, Medical Director of Creedon Advanced Wound Care.
If left untreated, chronic wounds can lead to diminished quality of life and possibly amputation of the affected limb and the COVID-19 pandemic has only made matters worse. Many suffering from chronic wounds have not sought needed care during the past two years resulting in a steep rise in amputations, according to a study from the American Diabetes Association.
In addition, the incidence of chronic wounds is rising due to our aging population and increasing rates of disease. Various conditions like diabetes, peripheral artery disease (PAD), cardiovascular disease and chronic obstructive pulmonary disease (COPD) increase the likelihood of a person having or developing a chronic wound. A breakdown of wound types, by prevalence, for those living with chronic wounds include:
–           Pressure Ulcers (43%)
–           Diabetic Foot Ulcers (31%)
–           Venous Stasis Ulcers (12%)
–           Surgical Wounds or Trauma (8%)
–           Arterial Ulcers (6%)
With all this in mind, the time for those suffering from chronic wounds to seek the advanced wound care available at Creedon Advanced Wound Care is now.
"Our entire staff is excited to share our successes with you. We're thrilled to be commemorating our 10th year anniversary in July and reflecting on the positive impact our care has made on the quality of life of our patients," said Sue Fairbanks, Program Director of Creedon Advanced Wound Care.
To learn more about Creedon Advanced Wound Care or to schedule an appointment, please call 510-535-7434 or visit www.alamedahealthsystem.org/locations/creedon-advanced-wound-care/.