As a child growing up in the Middle East, Ken Coelho, director of graduate medical education (GME) and continuing medical education (CME) at Alameda Health System (AHS) discovered his passion for helping those in need by watching his father, a primary care physician practice medicine from the patio of their home during the Gulf War.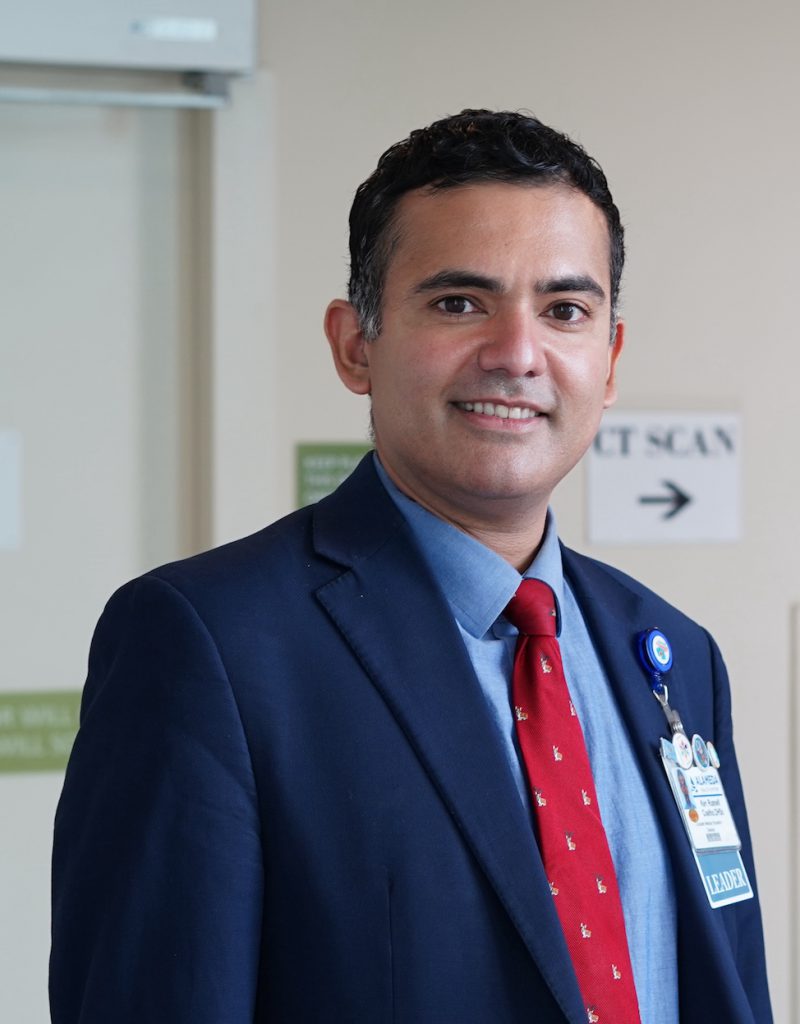 "My father was an expatriate physician working in Bahrain for the Ministry of Health when the Gulf War broke out and our community and the entire country was in crisis," said Coelho. "I saw firsthand the chaos and devastation the war had on people's lives. It was a scary time with the ground shaking, scud missiles flying overhead, and families forced to split up when fleeing the country."
It was during this perilous, dark time when Coelho witnessed his father, then serving in a relief capacity continue putting patients first by pivoting to deliver care in a new way. With the destruction of roads and buildings including hospitals and medical centers he opened the family home to provide health care services to a vulnerable community in shock.
Coelho was moved by his father's unwavering compassion as well as the individual's resilience and determination to survive. "It was definitely a defining moment in my life," he said. "It ultimately shaped my career path to focus on building programs that support the education, training and professional development of physicians to provide the best services to patients."
He was attracted to AHS because its mission of caring, healing, teaching and serving all aligned with the core values instilled by his father who served vulnerable communities facing extreme barriers to safety, housing and health care. Barriers Coelho faced himself after emigrating to the United States including waiting up to three months for his first medical appointment because he did not have health insurance. As a result, he understands the need for accessible patient-centered care regardless of where they live or socio-economic status.
In his current role, Coelho knew he could make the biggest impact on our diverse and underserved communities by developing a resident experience that supports the systemwide mission and promise of community health. Preparing future physicians is built into the foundation of AHS and hosts one of the oldest accredited residency programs in the Bay Area launching in 1955.
As a highly regarded teaching institution AHS is investing in the future of health care providers by developing a physician pipeline. Annually AHS selects approximately 70 residents from thousands of applicants for the following programs: emergency medicine, surgery, internal medicine, general dentistry and oral maxillofacial surgery.  "Our residents get to work alongside some of the best and the brightest in the medical field," said Coelho.
In addition to providing world-class clinical training, the graduate medical education program based at Highland Hospital focuses on awareness of social determinants of health often impacting AHS patients' overall health and well-being. Also embedded in the curriculum is a commitment to health equity and elimination of health disparities wherever they exist.
"AHS is committed to placing our residents in health care organizations across the country and throughout the world," shared Coelho. "However, it is incredibly rewarding when they choose to return to AHS as providers and many of them have done just that because they want to continue to make a difference in underserved communities"
For more information on resident programs at AHS visit Graduate Medical Education (GME).