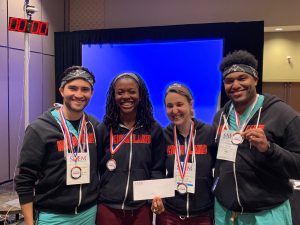 A team of Highland Hospital emergency medicine residents won the SimWars national title at the Society for Academic Emergency Medicine Simulation Academy's SAEM22 Annual Meeting in New Orleans last week.
Highland residents Dr. Jamal Jefferson, Dr. Esteban Cubillos Torres, Dr. Lexi Lambeck, Dr. Naya Misa, and Dr. Chloe Solomon beat Vanderbilt University in the first round, AdventHealth in the semi-finals, and returning national champions University of Texas – Parkland Memorial Hospital in the finals. Each round consisted of simulated scenarios ripped from the headlines, such as a critical airway and hemorrhagic shock linked to ingestion of superwarfarin-laced K2, and a case of decompression sickness due to space travel.
"I am so proud of the emergency medicine SimWars team! This is a testament to the outstanding emergency medicine program here at Highland and the excellent program leaders – Dr. Charlotte Wills, Dr. David Duong, and faculty," said Dr. Pamela Simms-Mackey, DIO and chief of graduate medical education.
The team was coached and prepped by Alameda Hospital Emergency Department Physician Dr. Julie Gesch. AHS Simulation Center Manager Kati Mackenzie and Simulation Lab Specialist Brian Hanlon also supported and provide ongoing simulation-based education to AHS physicians and clinicians.