Ten Alameda Health System (AHS) departments have been presented with Culture of Safety Innovation Awards for improving teamwork, communication, and safety in their work settings. The award winners are: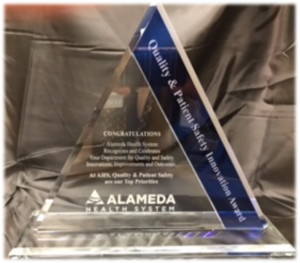 Anesthesia Providers & APPs
Hayward Wellness Center – Providers & Staff
HCP5 – Infusion & Specialty Clinics
Highland ACT 9
Highland Emergency Department Staff
Highland Inpatient Pharmacy
Highland Dental Clinic – Providers & Staff
Information Services
JGPH – Providers & Staff
Newark Wellness Center – Providers & Staff
These departments are the recipients of well-earned recognition for their efforts to address safety and teamwork challenges. Their plans identified areas for improvement based on results from the 2021 Culture of Safety Survey and implemented strategies that address problem areas that the survey uncovered. The Culture of Safety Innovation Award winners were selected for recognition based on:
The department's stated goals to demonstrate improvement in teamwork and safety
Actions taken to achieve improvements in collaboration and safety
Evidence of improved teamwork and safety outcomes
Plans to sustain improvements
Many departments developed creative and innovative ways to improve culture, morale, teamwork, communication, and collaboration within their departments. Thank you to everyone who took steps to strengthen our culture at AHS.
The 2022 Culture of Safety Survey is now underway. It is an essential tool for collecting feedback on AHS work conditions and culture. Did the 2021 improvement efforts make a difference in the overall culture of safety? Let us know by participating in the survey. The voice of front-line staff and providers is essential to help AHS move towards a Culture of Safety, improve patient outcomes and staff safety.
Take the 2022 Culture of Safety Survey here (internal only).