Originally published on California Health Care Foundation
MAY 16, 2019
By Heather Stringer
Like all emergency department physicians, Jocelyn Freeman Garrick, MD, treats patients suffering from broken bones, chest pain, infections, and a host of other ailments. But she also makes time for a second, unpaid job that sets her apart from her peers: The no-nonsense doctor from Oakland's Highland Hospital is constantly on the lookout for youth from low-income families and groups that are underrepresented in the health professions who could become future nurses, physicians, and respiratory therapists.
To help young people connect with educational and employment prospects that might not otherwise be an option for them, Profiles in LeadershipFreeman Garrick founded two nonprofit organizations that provide mentoring, training, and job opportunities for people of color: Mentoring in Medicine & Science (MIMS) and Emergency Medical Services (EMS) Corps. Both are dedicated to increasing diversity in the health care workforce at a time when California and many other parts of the country face a growing shortfall of trained professionals (PDF) to meet a rising demand for care.
"During my residency training, I noticed that most of the providers did not reflect the racial and gender diversity of the patients we were serving," said Freeman Garrick, 49, who grew up in a working-class neighborhood in San Francisco. "It saddens me when I see someone from a lower socioeconomic background who is uneducated. I know that education gets you out of poverty, and I had to do something about this."
Life Coaching and Mentoring

These programs have reached more than 1,000 students so far — people like Donte Glover of East Oakland. He dropped out of California State University, Northridge because he was becoming a father and wanted to provide for his son. Glover moved back to Oakland, but he found the 9-to-5 office jobs dull and unmotivating. He knew Freeman Garrick through his mother, who worked at Highland as a physician assistant. Freeman Garrick urged Glover to apply for the EMS Corps, a five-month program in San Leandro that includes emergency medical technician (EMT) training, life coaching, and access to a psychologist who helps students struggling with depression, anxiety, or other mental health issues.
"He had a kind spirit and was trying to be responsible, but I felt that he needed some help," said Freeman Garrick. "I thought he would benefit from the life coaching and mentoring."
She was right. Through the program, Glover learned that his love of sports was connected to his desire for teamwork and dedication, and an EMT role in a fire department would play to those strengths. He graduated from the program in 2012 and worked as an EMT in an ambulance until he recently landed a position with the Oakland Fire Department.
"The program really saved me," said Glover, 29, whose son is now 10 years old. "And Dr. Freeman Garrick helped me throughout the process." Since the EMS Corps launched in 2012, more than 300 young men have completed the training, and 200 have secured jobs.
"Now a shift doesn't go at by at Highland where I don't see one of my babies from the [EMS Corps] program," said Freeman Garrick, who is quick to offer a hug and smile to familiar faces.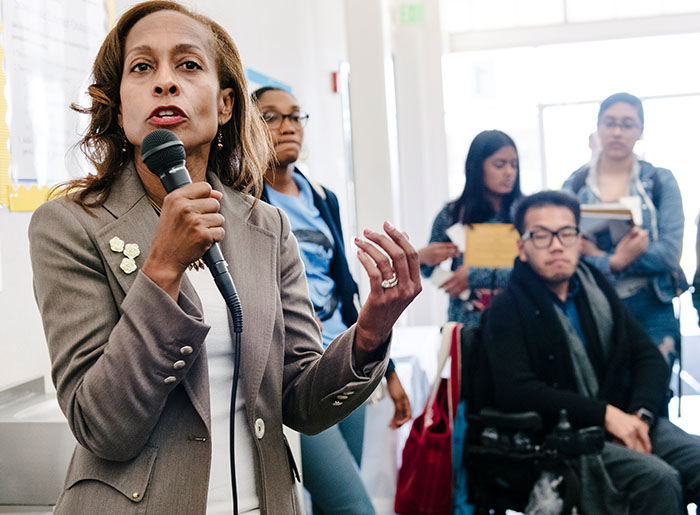 Origins of a Call to Service

Freeman Garrick's passion to open doors for disadvantaged youth was born in part out of her experience growing up in Hunters Point, San Francisco. After excelling in elementary and middle school, her teachers recommended that she move to a college preparatory high school outside the neighborhood. She was accepted into the University of California, Berkeley, but she couldn't ignore the stories about childhood friends who were struggling with drugs, teen pregnancies, and violence because they lacked education and job opportunities.
During college, Freeman Garrick volunteered at Highland and immediately loved the county hospital environment. "I was attracted to the microcosm of the community with so many cultures, languages, and classes of people," she said. "In the emergency department, you just go regardless of your economic status. I was fascinated by that."
After earning a medical degree at the University of Southern California, Freeman Garrick moved to New York for residency training at Jacobi Medical Center and two Montefiore hospitals. There, she witnessed how language and cultural barriers influenced the level of trust between providers and patients — a major factor affecting the quality of care. She vividly remembers when a respected medical resident ordered multiple diagnostic tests for a Black woman complaining about abdominal pain. But he didn't have the full picture. When Freeman Garrick spoke to her, the woman admitted she had recently become homeless and started consuming starchy food because it was more affordable. She suspected that the woman was suffering from gastritis, and many of the tests were unnecessary.
"She trusted me because she could relate to me," said Freeman Garrick. "Those little connections really matter."
Experiences like this fueled her determination to diversify the health care workforce. She acted quickly, launching MIMS the same year she started practicing emergency medicine at Highland. She sought out colleagues and friends to help with mentoring, but without a source of revenue to support her dream, Freeman Garrick became exhausted.
What the Mentor Learned When She Was Mentored

Then she applied for a fellowship in the CHCF Health Care Leadership Program, which helps clinicians develop the skills needed for effective vision and leadership in the health care system. Through the experience, she learned how to create a business plan and advisory board and to hire people who could raise funds for MIMS. "I hadn't been taught how to run a nonprofit, and I learned the value of building relationships with important people," she said. "If you don't tell the world about your organization, then you will not get the financial support you need."
Now MIMS has an annual budget of $350,000 and is run by a staff of four who organize mentoring and internships for middle school, high school, and college students. The organization's Health Scholars program, which teaches students about CPR, the respiratory system, and the neurological system, provides an on-ramp for young men of color to enter the health profession.
Freeman Garrick's vision to diversify the workforce also influenced the residency program at Highland. She partnered with another CHCF Leadership Program alumna, Berenice Perez, MD, an emergency department medical director at Highland, and several other providers to overhaul the review process for emergency department resident applicants. Now reviewers consider factors like resiliency, volunteer experience with disadvantaged communities, languages spoken, and socioeconomic hardship. After the initiative, the percentage of underrepresented minority residents more than doubled, from 12% to 27%. The Annals of Emergency Medicine recently published the team's strategies to increase representation from diverse communities. Previous studies show improved outcomes when the patient and physician share the same racial or ethnic heritage. She says she is equally passionate about supporting young people who are interested in respiratory therapy, radiology, and other allied health profession roles.
Freeman Garrick further expanded her reach in the community when she launched the Alameda County Health Pathway Partnership, which connects several county programs aimed at helping young people from diverse backgrounds pursue health careers. Before she stepped in, the programs were less effective because they lacked funding and communication between leaders. "We also needed to establish metrics to evaluate how the programs were doing and how to close gaps in the pipeline," said Freeman Garrick. "We discovered that only 20% of the participants were male, so we needed to start recruiting more boys."
Long-Term Relationships

Freeman Garrick isn't interested merely in filling the pipeline with diverse trainees. She stays connected to those she has already taken under her wing long after they leave the programs — people like Nelly Gonzalez-Lepage, who was born in Mexico and moved to the United States when she was two years old. She met Gonzalez-Lepage while she was a student at UC Berkeley. Gonzalez-Lepage excelled academically, and Freeman Garrick encouraged her to apply for a MIMS summer internship through which she would shadow emergency physicians at Highland.
Gonzalez-Lepage loved the experience and thrived under the mentoring. "She told me I was one of the top students she'd met, and that she could see me being a physician," said Gonzalez-Lepage. "That was the first time anyone had said that to me, and it was very powerful."
But the costs of the placement test, applications, and medical school were too steep for her to afford. Freeman Garrick helped Gonzalez-Lepage get a job within the Alameda County Public Health Department and later hired her as project coordinator for MIMS. After several years, Gonzalez-Lepage still was uncertain about pursuing medical school. She felt financially responsible for her family and needed to take additional classes to boost her college GPA. Freeman Garrick encouraged her and said she would help at each step along the way. Gonzalez-Lepage, 32, is now a fourth-year student in the MD-MBA program at Loyola University Chicago.
"Dr. Garrick knew about my personal struggles but never gave up on me," said Gonzalez-Lepage. "She is someone who truly believes in people, and that sets her apart from other mentors."
Freeman Garrick's impact is expanding as her mentees influence their own communities. Gonzalez-Lepage says she has mentored hundreds of students from underrepresented ethnic and racial backgrounds who are interested in applying to medical school, and she plans to continue working in management capacities while remaining in medical practice. By serving in roles like director of a clinic or residency program, Gonzalez-Lepage said she hopes to bring greater diversity to higher levels of leadership and advocate for patient populations that are underrepresented in boardrooms.
Her story is a case study in the way the physician's vision is being realized within the communities she influences. "Many of these kids may not have people at home to serve as role models," Freeman Garrick said. "They just need hope and motivation, and my job is to encourage them."