As of Wednesday, August 11, 2021 to comply with a health order from the state of California Alameda Health System (AHS) will require visitors to its acute care hospitals and post-acute facilities to provide proof that they are fully vaccinated or have had a negative COVID-19 test taken within 72 hours to visit a patient indoors.
To support implementation of this order, Visitation Guidelines have been updated and masking continues to be mandatory for all visitors.
Per the California Department of Public Health (CDPH) guidance for Vaccine Records Guidelines and Standards, only the following will be accepted as proof of vaccination: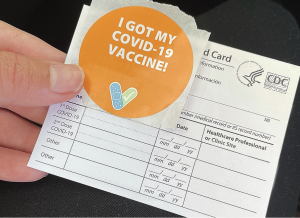 COVID-19 Vaccination Record Card (issued by the Department of Health and Human Services Centers for Disease Control & Prevention or WHO Yellow Card) which includes name of person vaccinated, type of vaccine provided and date last dose administered); OR
A photo of a vaccination card as a separate document; OR
A photo of the client's vaccine card stored on a phone or electronic device; OR
Documentation of vaccination from a healthcare provider; OR
Digital record that includes a QR code that when scanned by a SMART Health Card reader displays to the reader client name, date of birth, vaccine dates and vaccine type; OR
Please note these changes apply to acute care and post-acute settings and do not change screening guidance or personal protective equipment requirements in AHS post-acute settings.
For information about where to get a COVID-19 test or vaccine in Alameda County please visit the Alameda County Department of Public Health website.