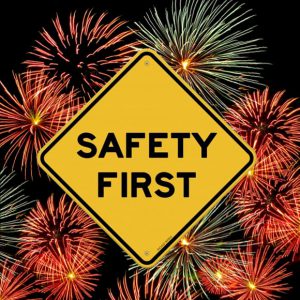 Understandably, many people are eager to celebrate the first holiday since the lifting of COVID restrictions, but California is experiencing an early fire season, widespread drought and extremely dry vegetation. Fire officials worry that current conditions could lead to the perfect storm. One spark from a firework can have disastrous consequences including serious injuries and even death.
Dr. Barry Simon, Chair of Emergency Medicine at Alameda Health System, reminds us that burns are the most prevalent type of firework injury and even sparklers can cause harm. He says the supervision of children is crucial especially during 4th of July celebrations. "Children and fireworks are both unpredictable" says Dr. Simon. "Even the smallest fireworks can cause disfiguring burns and severe eye injuries. One moment can change you and your child's life forever."
Last year 15,600 people were treated in U.S. hospital emergency departments for fireworks related injuries that could have been prevented. This was an increase of over 50% when compared with 2019.
"Fireworks are illegal for a reason. Unless you're a trained professional, neither you, or your child, should play with fire. These are preventable injuries with scaring consequences," said Simon.
In addition to fires and burns, the 4th of July and warm weather can increase the risk of other illnesses and injuries.
Here are some quick reminders to help protect you, your friends and family. Let's celebrate safely this Independence Day!
Food safety
Summertime is prime time for fruits and veggies; half of your plate should be a combination of these. Make sure to wash hands before preparing and enjoying meals.
Food should be cooked at the correct temperature as well as kept at the correct temperature while being served.
Proper food temperature and handwashing are critical to avoid food contamination.
Stay hydrated. Daily fluid intake recommendations vary, but drinking plain water is a good way of getting fluids, especially on hot days out in the sun!
Water safety
The heat and the holiday bring the opportunity for swimming and lots of water fun! Never swim alone, and always supervise children while swimming or playing near bodies of water.
Reapplying sunscreen before and after being in the water is important.
Do not swim in water that looks discolored, and if out on open waters use life jackets.
While on a boat make sure there is a designated sober driver.
Heat safety/Sun safety
The only things with burn marks this Fourth of July should be hamburgers and hotdogs, not your skin! Use sunscreen and stay in shaded areas when possible.
Drink lots of water and watch for signs of heat exhaustion, which could look like nausea, cramps, confusion or dizziness.
Never leave children or pets alone in a hot car, even with the windows down.
Driving Safety
The holiday puts extra drivers on the road; stay alert while driving.
Watch out for impaired drivers on the road. Drive sober, and make someone you know doesn't drive under the influence.