On Saturday, October 21, Alameda Hospital hosted its 24th annual Community Health Fair. There were over 400 attendees and more than 20 local vendors that came out to participate in this event that included nearly 40 exhibits and activities for the entire family. A number of Alameda Hospital departments were also showcased and provided information to help keep the community well.
Patrons were able to receive many free health screenings and pay for others like osteoporosis for a small fee. Children were able to participate in the free bike helmet program and get their face painted by artistic volunteers.
One of the main events was the free flu shot clinic where our team members gave more than 300 flu shots.The facility was set up by the Alameda Community Emergency Response Team (CERT). AHS nursing staff administered the shots but the CERT team helped put things in order as a way for them to practice their emergency response skills.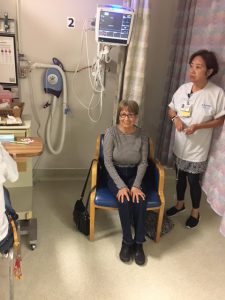 "Fortunately, California doesn't have as many natural disasters as some other states like Florida, so this clinic serves as a medical pod drill for us. It's a great way for us to get training and partner with the hospital," said Sharon Oliver, disaster preparedness coordinator for the Alameda Fire Department (AFD).
Community members must complete a 21-hour FEMA course to become CERT certified. Oliver said that the same flu clinic layout could be used if they needed to dispense prophylactic antibiotics.
Kathy, a five year veteran of the fair stopped to talk to AHS after she received her free EKG. "I come every year for the information and the goodies! It's an outing for me." Kathy came to the event with her neighbors who were there for the first time.
Maria Young, director of the AFD senior safety program, was happy to be a vendor this year. "This event is a nice way to reach out to seniors in our community, and not just the frail elders who can benefit from our program, but people my age (55) who might have elder parents."
Young says the program provides safety modifications to the homes of elders and the disabled that will help prevent falls and fires. She says that the fire department receives a lot of lift calls.
In the end, the event was a complete success! Thank you to all vendors, AHS staff and volunteers.
Edited June 22, 2018.