This year Alameda Health System took another step toward its ongoing mission of caring, healing, teaching and serving all by enrolling one of its most diverse and competitive classes.
Each year Alameda Health System (AHS)-Highland Hospital receives thousands of applications for its residency programs that has less than 60 slots.
Because of the competitive nature of the residency programs the students are top-tier. "Our residency programs are some the highest sought out programs in the nation," said Ashley Bitar director of the AHS graduate and continuing medical education program.
Annually AHS selects residents for the following programs: emergency medicine, internal medicine, general dentistry and oral maxillofacial.
"Our program is highly coveted for many reasons. One of them is that we serve such a vulnerable population, this promotes an advanced level of thinking in regard to treatment and care," said Bitar.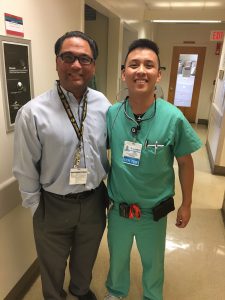 "We often treat patients who are gravely ill with limited or non-existent financial income. This teaches our residents how to be resourceful and how to be advocates for their patients. They are also exposed to more unusual health issues like how to provide treatment for a cancer patient who is also homeless, that they wouldn't receive at a typical hospital."
In addition to the variety of hands-on experiences they will receive, the residents learn from very accomplished physicians. "Our faculty members are excellent teachers and they are constantly cranking out research and being published in the top medical journals. Our residents get to work alongside some of the best and the brightest in the medical field," said Bitar.
Matthew Auyoung, M.D. accepted his post as chief resident of internal medicine in July of this year. In his role he serves as junior faculty and helps new residents with onboarding, overcoming logistical challenges and applying their medical school training with the patients. He believes the faculty at Highland are generous with their knowledge. He has enjoyed learning from physicians that have a unique perspective.
"I studied medicine in Syracuse and Highland was my first choice for my residency. The director of the program actually called me to let me know I was accepted and it was very exciting."
Auyoung, originally from the East Bay, grew up in a Cantonese-speaking community and remembers those close to him receiving care at Highland Hospital. "I had a personal connection with the hospital and the mission of AHS resonates with how I want to practice medicine."
At AHS he sees things that his peers in residency programs in rural or private hospitals have only read about in textbooks. An example of an illness that isn't prevalent nationwide is tuberculosis. Asians and Pacific Islanders account for more than half of the tuberculosis cases in California and 29% of the patients treated at AHS fall in the Asian/Pacific Islander demographic.
According to the Centers for Disease Control and Prevention 66% of tuberculosis (TB) cases reported in the United States are among foreign born people and California has one of the highest rates of TB in the country.
"I love the experience I am receiving at AHS. They trust us and they train us well," said Sean Lee, D.M.D, originally from the East Coast and a first-year resident working in the dental clinic.
Pictured in above photo: Tim Verceles, D.D.S., director of the AHS Advanced Education in General Dentistry Program and resident Sean Lee, D.M.D