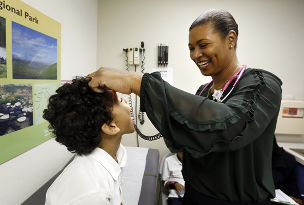 The Alameda Health System (AHS) was recently named as one of the top performers in the State for childhood immunizations by the Department of Health Care Services (DHCS). This accolade is a tribute to the pediatric team who have worked tirelessly to bring children in for wellness checks and critical vaccinations during COVID-19.
"This shows we are doing all we can to help protect our youngest AHS patients from preventable illnesses and helping them live healthier lives in the face this unprecedented and ongoing pandemic," said Dr. Simms-Mackey, chair of Pediatrics, Designated Institutional Officer (DIO) and chief of Graduate Medical Education. "I couldn't be prouder of everyone's efforts in making this award possible."
When the pandemic began, the DHCS implemented a managed care Designated Public Hospital (DPH) Quality Incentive Pool (QIP) to allocate additional quality incentive payments specific to preventative childhood immunizations including Influenza. As a top performer AHS will receive funding for delivering outstanding care to Medi-Cal members and meeting performance and quality measures for childhood immunizations.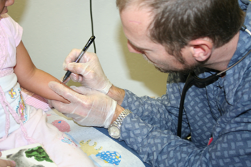 This was truly a team effort with the formation of the interdisciplinary pediatric workgroup, comprised of more than 20 participants representing all AHS pediatric services sites as well as some ambulatory leaders.
The purpose of implementing a pediatric workgroup is to continue the journey of improving the quality of care provided to pediatric patients as well as increase the overall performance on AHS's QIP metrics.  The group meets monthly to review progress and look for opportunities for improvement as well as spreading best practices across the system.
"This acknowledgement is a testament to everyone's contributions and a great motivator to continue meeting and exceeding all of our pediatric quality improvement efforts," shared Simms-Mackey.
In addition, she shared her appreciation for AHS pediatric clinics at Eastmont, Hayward and Newark Wellness Centers, and AHS-Highland Hospital for providing exceptional care to all our young patients every day.
"Specifically, I want to recognize our Quality Improvement Performance Manager, Ranjana Shardha who helps organize and track our work," said Simms-Mackey.  "Shardha shares her motto with the entire team on a regular basis to help build synergies and drive the better outcomes.  It's based on a quote from American industrialist and innovator Henry Ford, "'Coming together is a beginning, staying together is progress and working together is success.'"
For more information and resources visit:
http://www.alamedahealthsystem.org/services/childrens-health/