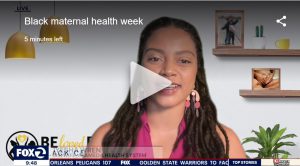 Alameda Health System (AHS) midwife and BElovedBIRTH Black Centering Program Director Jyesha Wren was live on KTVU local news for a segment celebrating Black Maternal Health Week.
"BElovedBIRTH Black Centering is redefining perinatal care in the Black community," said Wren. "We're all about providing a table for Black women and birthing people to gather around and address the crisis of racism-based birth disparities. Together, we're creating and implementing a model of perinatal care that can honor and celebrate Black women."
Watch the KTVU segment here.