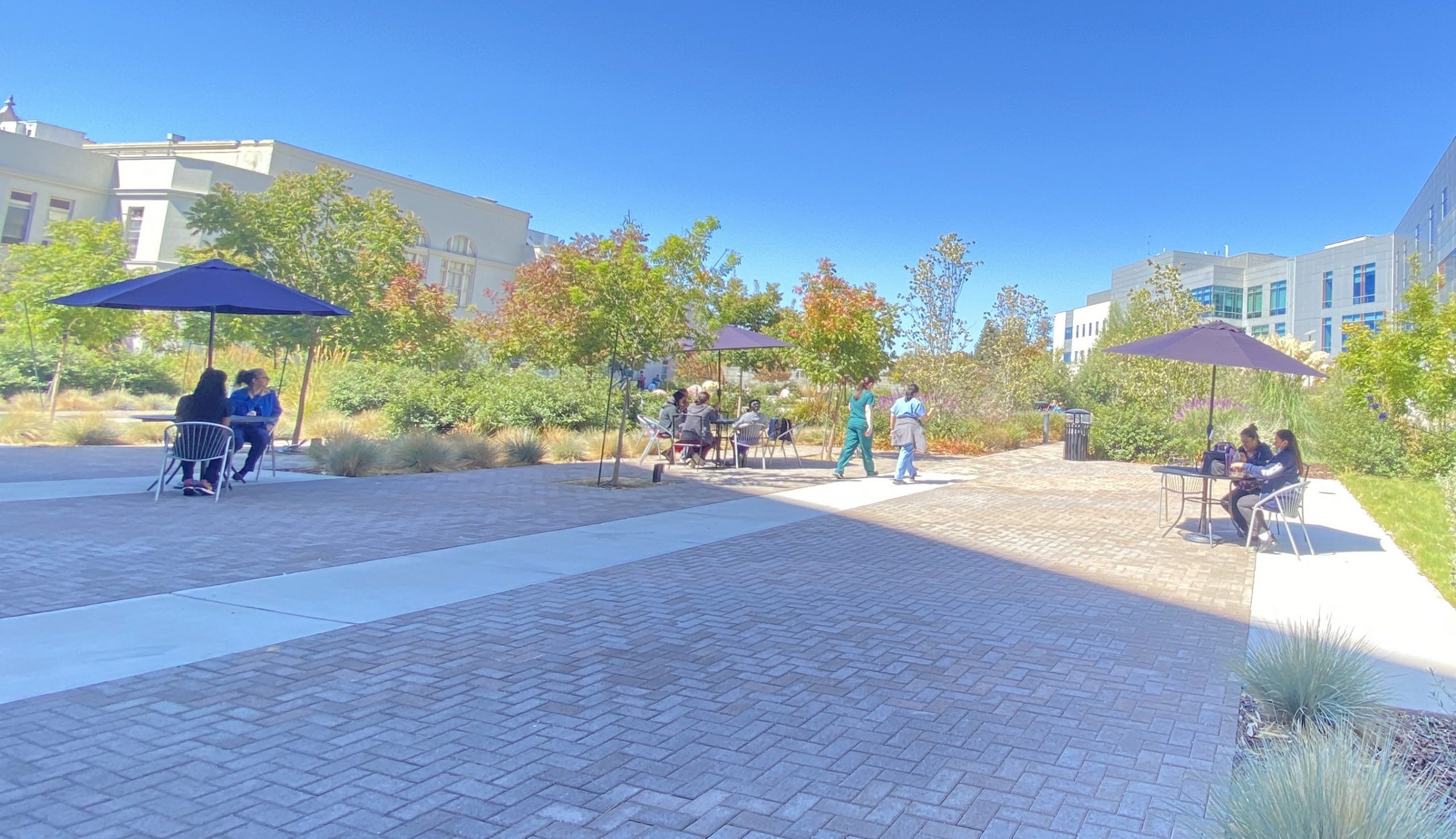 In August Kristine Claire (KC) Yallico a clinical laboratory scientist supervisor at Alameda Health System-Highland Hospital saw an opportunity to maximize the beautiful outdoor courtyard space for employees to eat outdoors without having to sit on the concrete or grass.
Yallico took the initiative to share her idea on the weekly leadership desktop chat and sent an email to CEO James Jackson asking if it was possible to provide more and better seating.
Today, in the AHS-Highland courtyard there are multiple tables and chairs with umbrellas to provide shade for everyone to enjoy while eating lunch or just connecting with coworkers over coffee.
"I am happy to know that we can easily reach out to AHS Leadership because they listen and things are actually getting done," says Yallico. "I think the outdoor seating will allow hospital staff to enjoy the courtyard especially with limited indoor seating."
At AHS many of the best ideas come from our employees who live the mission every day and can identify opportunities for improvement in the workplace. That's why our AHS leadership team wants to engage with and encourage employees to bring their ideas forward.
They invite everyone to share feedback and to ask questions about all that's happening across the system from COVID testing and vaccines to new programs and processes and more. At AHS employees should feel empowered to speak up and share their honest feedback.
There are many opportunities to share your voice and connect with leadership including the leadership desktop chats and the Thank You for Asking web form on our internal intranet.
The weekly chats provide employees a regular forum to ask questions of the leadership panelists on any subject of interest. Please join the Wednesday chats and remember to submit your questions or comments during the chat. Leadership is eager to hear from you.
Another way you can engage with leadership is through the: Thank You for Asking intranet web form.  It creates a valuable channel to connect with AHS leaders and share questions or concerns. Complete and submit the form to receive a response.
In addition, AHS recently relaunched department leadership meetings to better engage with management. If you are a department leader, please participate in these meetings and share your ideas. For direct reports, don't hesitate to speak with your leader so they can bring your feedback to the meetings.
Our leadership is committed to transparent two-way communication that builds trust and values each employee's input in making AHS a great place to work. It's truly a collaborative effort to drive improvement and innovation and at AHS your voice matters.