Alameda Health System (AHS) is working tirelessly to lower patients' risk for heart attack, stroke, heart disease, lung cancer and premature death by doing one simple thing, getting patients to butt out.
Smoking effects every part of the human body and strongly contributes to all of the aforementioned ailments, yet 11% of Alameda County residents can't kick the habit. In Oakland and Hayward, that smoking rate is a little bit higher, around 13.4% according to the Alameda County Public Health Department.
"We know it is a difficult habit to break, this is why it is so important for us to ask patients if they would like help quitting during every single visit," said Cres Reyes, RN, clinical supervisor for the Alameda Health System-Easmont Wellness Center.
During the intake process patients are asked if they smoke and if they say yes they are asked if they would like someone to contact them about ways to quit smoking. If they say yes again, their information is automatically sent to 1-800-NO-BUTTS, which is California's smokers helpline, the patient is then contacted by a trained cessation counselor.
"This used to be a real challenge for us because the questionnaire was very complicated," said Reyes. "Now the process has been simplified and it is much easier for us to connect our patients to the care they need."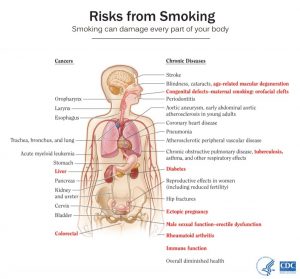 Tobacco assessment and counseling is one of AHS's Public Hospital Redesign and Incentives in Medi-Cal (PRIME) metrics. "Unfortunately tobacco related health disparities devastates individuals, families and the community," said Reyes.
According to the Centers for Disease Control and Prevention the three leading causes of death among Asian Americans and Pacific Islanders are cancer, heart disease, and stroke all of which can be caused by cigarette smoking. Additionally, African American children and adults are more likely to be exposed to secondhand smoke than any other racial or ethnic group.
Reyes is a part of the PRIME cohort and has explained the importance of this primary care redesign goal to the rest of her team. Reducing smoking within the AHS patient population will improve health outcomes and ensure maximum reimbursement.
While all of the AHS ambulatory clinics are working diligently on this effort, the Eastmont Wellness Center has consistently had the highest rates of linking patients to tobacco cessation resources.
"We actually got the idea from one of our colleagues who works at a community health center," said Stephen Kilgore, director of nursing for ambulatory. "Last year while attending the County's monthly smoking cessation meeting I saw a presentation that discussed linking patients to cessation services right from NextGen, which is the same electronic health system we currently use."
Kilgore had a conversation with the presenter and asked if they could share the technology. The next step was simplifying the questionnaire. Neha Gupta, M.D., AHS PRIME director whittled the questionnaire from 15 questions to 5 which made it much easier for staff to do their job.
"Once we created this new system our referrals went through the roof. 1-800-NO-BUTTS even reached out to us and basically said whatever you guys are doing keep it up," said Kilgore.
While a referral doesn't necessarily equate to quitting it is still a step in the right direction. And even though the average person equates quitting smoking with reducing their risk of lung cancer there or other health benefits.
"Studies show that a person's risk for heart attack drops sharply within a year of quitting," said Reyes.
If you or anyone you know would like help to quit smoking please call 1-800-NO-BUTTS or visit https://www.nobutts.org/.