On Saturday, August 25, the Alameda Health System (AHS) Foundation Associate Board presented the AHS Eastmont Wellness Dental Clinic with a check for $29,500. This funding will be used to purchase dental instruments that can help prevent cavities and gingivitis in pediatric dental patients. After the check presentation, the Associate Board had a chance to see their investment in action as they toured the clinic and watched children receive cleanings and sealants from Pamela Alston, D.D.S., and her UCSF dental student volunteers.
Megan Sweeney, current vice-chair of the Associate Board said it was inspiring to see the dental team treat the patients with such care and kindness. "I became a part of the Associate Board because I am from the East Bay and I wanted to be more involved with my community. When Dr. Alston came to talk to us about supporting the clinic, her passion was clear, and being here today lets me know we made the right decision."
The Eastmont Wellness Dental Clinic serves a very vulnerable population and Alston, director of dental services at the Eastmont Wellness Pediatric Dental Clinic, states some of her patients live in homeless shelters, and that some families can only afford one toothbrush per household—which is not healthy because that means they are sharing bacteria. Alston says dental education and access to care is critical for children (and adults) to have good oral health.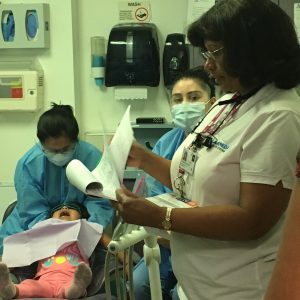 "The rule is: first tooth, first visit! By the time I meet many of my patients they are already in the first grade. Some of them have healthy teeth and some have a mouth full of cavities," said Alston. "Handpieces can be used for preventing cavities, which includes putting sealants on the back molars typically hard to reach teeth, or treating cavities with fillings. Unfortunately we didn't always have enough handpieces to do both so we had to focus on treatment."
Studies show that sealants reduce the risk of decay by 80% in molars. Alston and her team knew preventative care was needed, but it wasn't always an option, so they reached out to the Alameda Health System Foundation.
"Our goal is to cultivate community support and funds for AHS services. It is important for our dedicated health care professionals to continue serving everyone who walks through the door—regardless of their citizenship or ability to pay. When Dr. Alston reached out to us for funding, I immediately thought this would be an excellent project for our Associate Board to tackle," said Nyjeri Whipps, Director of Annual Giving at the AHS Foundation.
The Associate Board is filled with emerging leaders and millennials who leverage their expertise to raise the visibility of AHS and the Foundation. They hosted a fundraiser in May that raised the funds for the dental clinic and they've supported other AHS programs as well.
"Sometimes millennials get such a bad rap, but what people fail to realize is that these younger professionals are willing to use their social capitol for a cause. When I met with the Associate Board I felt like I was on Shark Tank!" Alston laughs. "They asked tough questions, they were being good financial stewards, and they really wanted to understand how the funds would be used for the greater good."
According to the National Maternal and Child Oral Health Resource Center poor oral health like persistent dental pain, inability to chew food well, embarrassment about discolored or damaged teeth, can effect a child's quality of life and performance at school. In fact, some studies show that poor oral health is one of the most common reasons a child misses school.
"You'd be surprised how many children I meet who keep their head down and fail to make eye contact because their teeth are decayed. It really effects their self-esteem." said Alston.
Yica Smith, mother of four-year-old Jose, one of the patients receiving care, said she really appreciates the time the staff take to ensure her children are comfortable. "They explain what the dental instruments are and explain the procedure they are about to do. I really think that helps reduce anxiety." She has an older daughter who has seen Alston and other dental facilities. Her daughter can now only be seen at Eastmont because the other dentists were not as sensitive and her daughter has really bad anxiety that only Alston and her team seem to know how to manage.
"I'm glad my dental students had a chance to interact with the Associate Board today. Similar ages, different careers, one goal; serving all."