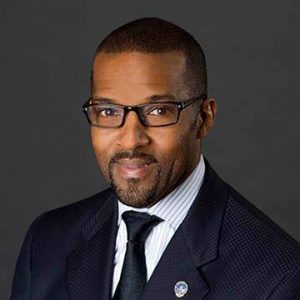 For Immediate Release
Oakland, CA – May 3, 2021 – On May 1, 2021 the Alameda Health System (AHS) board unanimously endorsed James Jackson, interim CEO, with a six-month contract extension, effective May 23. Jackson was appointed in January to lead Alameda County's comprehensive health services provider.
The contract extension ensures that Jackson will continue to lead the $1 billion system consisting of four hospitals – including the East Bay's only Trauma 1 provider Highland Hospital, and a network of post- acute facilities, ancillary providers, and wellness centers. AHS's 4000 employees and 1000 physicians provide comprehensive health services to all Alameda County residents.
During his short tenure as interim CEO, Jackson has surpassed the Board's expectations by restoring trust in leadership among AHS' physicians and staff and building collaborative partnerships with the Alameda County Board of Supervisors and administrative leadership. Jackson oversaw the successful negotiation and agreements with two labor unions representing nearly 3,000 employees. His decisive action in bringing new leaders to build a high quality, committed executive leadership team was welcomed. Jackson oversaw a successful Joint Commission Survey and the reverification of Highland Hospital as the only level 1 adult trauma center in the east bay.
Other notable accomplishments include Jackson's implementation of a comprehensive, equitable COVID-19 vaccination program for AHS staff, patients and residents, reducing infection and transmission of the deadly virus at all AHS facilities.
AHS Board of Trustees President Taft Bhuket, M.D. expressed the Board's confidence in Jackson's performance. "James Jackson has surpassed our expectations. He has shown commitment to optimizing essential relationships, he has helped us navigate compliance and regulatory concerns, he has shepherded the resolution of two collective bargaining agreements, and he is laying groundwork for us to become a high reliability organization. The tone of AHS is palpably improved under James' leadership and there is growing optimism for our future. James has our full support and is deserving of this six-month contract extension. We look forward to James extending his track record of successes."
The Interim CEO Transition Ad Hoc committee, chaired by Trustee Kinkini Banerjee, reaffirmed the Board of Trustees commitment to deeply respectful and collaborative relationships with internal and external stakeholders, and developed a comprehensive and inclusive Interim CEO Performance Evaluation process. A diverse representation of AHS staff, County and key community leaders were invited to share feedback on Jackson's leadership during his first three months and provide their insights in achieving our shared goals of health equity and reliable, high quality patient care.