Alameda Health System (AHS) earned the 2022 College of Healthcare Information Management Executives (CHIME) Digital Health Most Wired Level 8 recognition for acute and ambulatory.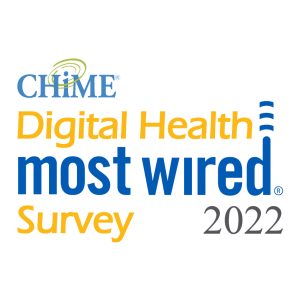 The CHIME Digital Health Most Wired program conducts an annual survey to assess how effectively health care organizations apply core and advanced technologies into their clinical and business programs to improve health and health care in their communities.
"In achieving the Digital Health Most Wired designation for the second consecutive year, it illustrates AHS's unwavering commitment to excellence with equitable patient and community-centered care at the core of what we do every day," said Chief Information Officer Mark Amey. "I am extremely grateful to our entire Information Services (IS) team and our clinical and operational partners whose collective efforts made this recognition possible."
The 2022 survey assessed the adoption, integration and impact of technologies in health care organizations at all stages of development, from early development to industry leading. Participants received certification based on their overall performance with level 10 being the highest.
More than 38,000 organizations were represented in this year's Digital Health Most Wired program and AHS was one of the few safety-net health care organizations to be honored, achieving Level 8, up from Level 7 in 2022 for acute, ambulatory and LTPAC.
AHS continues to pursue innovative approaches and leverage existing technology solutions. "Providing excellent systems with meaningful and actionable data empowers our providers to provide the highest quality care and meet the demand for health care services across our community," said Chief Medical Informatics Officer Dr. David English.
Since the successful 2019 launch of AHS's Epic electronic health record (EHR), information technology has come to be an essential tool for staff and medical staff. Today, almost all AHS staff use Epic on a regular basis to stay on top of patients' health and wellness. It continues to evolve, providing resources that enhance connectivity with colleagues and patients.
Epic continues to bridge the gap in patient and provider communication. Just by registering for MyAlamedaHealth, patients can also message their Primary Care Physicians (PCP), schedule well-health and vaccine appointments, request prescription refills and view lab and test results. All of this empowers AHS patients to participate and engage in their own health and wellbeing.
In addition to implementing Epic, Alameda Health System has been on a multi-year journey to modernize its infrastructure, enhance the cyber security platforms, and replace antiquated HR, Finance, and Materials Management systems.
"Our investment in technology is very much aligned with our focus on sustainability and commitment to provide truly integrated, exceptional and equitable care to our patients and community we serve.  I have tremendous gratitude for the Information Services team who provides our innovative technology and our clinicians who use it to deliver exceptional care," said Amey.